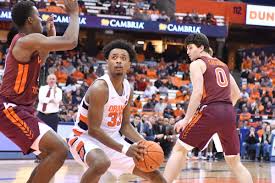 Our Syracuse vs Virginia Tech pick offers the Hokies at -4.5. This Syracuse vs Virginia Tech prediction notes that the Syracuse Orange (10-7 Overall, 3-3 ACC) are fifth in the ACC. This is a conference with three teams, Duke, Florida State, and Louisville, all nationally ranked and all first in the ACC. The Virginia Tech Hokies (13-4 Overall, 4-2 PAC-12) are right behind those three teams and just above Syracuse. They are fourth place in the ACC. The game will be played Saturday, January18, 2020 at 12:00 pm ET. The two teams will meet at Cassell Coliseum in Blacksburg, VA.
Syracuse vs Virginia Tech Pick – Recent Performance
Syracuse started their season with a 48-34 loss to #11 Virginia. They then won four in a row and, after that, lost three straight contests, making them 4-4 over their first eight games. Over their past five games, the Orange have gone 3-2. They started that string with an easy win over Niagara, followed by two losses. On January 4, Notre Dame snuck by the Orange 88-87 and on January 7, the Virginia Tech Hokies edged them 67-63. Then, in their second meeting of the season with Virginia, the Hokies outlasted the #18 Cavaliers in OT 63-55. They last played Wednesday, January 15 against Boston College. Syracuse won that contest 76-50.
The Hokies began the 2019-2020 season with six wins. Those victories included a 71-66 beating of #3 Michigan State. Over their next eight games. VT went 4-4. Included in those eight games was a 63-77 loss to #10 Duke as well as a 65-39 loss to #19 Virginia. The Hokies have won their last three games, beating Syracuse 67-63, NC State 72-58, and Wake Forest 80-70.
Orange at Hokies – Stats
Our Syracuse vs Virginia Tech pick observes that the Orange are better on points scored, 73.2 to 91.9, while the Hokies are stronger on points allowed, giving up 61.8 PPG to opponents while Syracuse is allowing 65.2 PPG. Field goal percentages are the same, 44.1%, and rebounding very close with the Orange posting a minimal plus, 36.1 to 35.6 RPG. Assists per game are also almost equal. The Orange is dishing off 16.4 APG and the Hokies 15.5 APG. Syracuse leads in blocks per game (4.4-2.8) and steals per game (7.4-6.2).
Player and Roster Assessment
The Orange bring a solid core to the court. Lead by junior forward Elijah Hughes, who's averaging 19.5 PPG, 5.0 RPG, and 4.4 APG, Syracuse offers two strong players in the paint and two fine backcourt shooters. Forward Marek Dolezaj is grabbing 7.2 RPG while averaging 9.8 PPG and shooting 52.4% from the floor. In the backcourt, sophomore Buddy Boeheim and freshman Joseph Girard III are averaging 15.6 and 12.4 PPG.
For the Hokies, their three top scorers are guards. Freshman Landers Nolley II is the team's top point-maker, averaging 18.1 PPG. That just about double of any other VT player. He's also snaring 5.6 RPG. Although not a primary scorer, guard Wabissa Bede does lead the Hokies in assists per game with 6.4. He's scoring 5.6 PPG. Guards Tyrece Radford and Naheim Alleyne are each averaging just over nine points per game. Radford is grabbing 6.4 RPG. P.J. Horne is the top front-man, recording 8.1 PPG and 4.6 RPG.
Our Syracuse vs Virginia Tech Pick
Both teams are sho0ting 37% from the arc. Syracuse is hitting 72% of their frees and VT 70%. We like the Orange in this game due to their overall talent and depth. They bring sound inside and outside games to the court. The Hokies are solid at the guard spot, but they are lacking in front. Our Syracuse vs Virginia Tech pick is the Orange at +4.5.
Syracuse Orange vs Virginia Tech Hokies Prediction – Summary
Syracuse Orange at +4.5