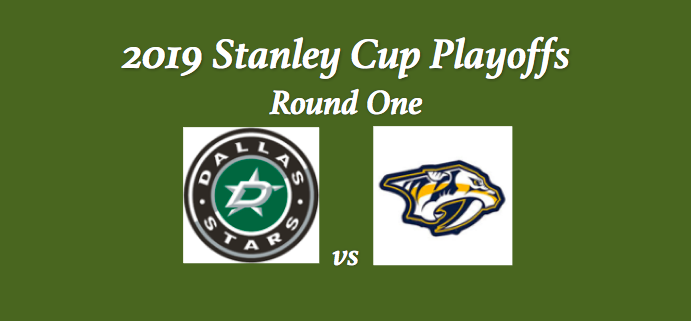 Our Stars vs Predators Playoff Preview sees Stars and Predators goaltending and depth factoring into this matchup. This Stars vs Predators playoff analysis offers a series prediction based on specific stats and facts. The Nashville Predators finished atop the Central Division for the second straight season. They are set to face off against the Dallas Stars. The Predators came away victorious in three out of five meetings between the clubs. But will that trend continue over this seven-game series? First, we take a close look at netminding, and then we consider offense and D.
Stars vs Predators Playoff Preview – Goaltenders
Ben Bishop had a terrific season for the Stars. This Stars vs Predators playoff preview observes that when healthy, he was among the NHL's best in all statistical categories. His .934 save percentage led all netminders while his 1.98 GAA was second. He played in Dallas' last game after missing the previous four with an injury but looked solid. He pitched a his seventh shutout in a 24-save effort. The 6'7'' goaltender hasn't made a playoff appearance since 2016 but was solid then. He has played in two postseason runs stopping .927 percent of his shots over 36 games. Bishop is the backbone of this Stars team and won't have much room for error if Dallas is going to beat the Preds.
Pekka Rinne will man Nashville's crease. Rinne comes into the series having won each of his last four starts. He stopped .949 percent of the shots he faced in this span, giving him a .918 save percentage on the season. He also finished in the top ten for GAA allowing 2.42 per game. In his last ten games he has a 7-2-1 record. Rinne has made playoff appearances in each of the last four seasons but has been lackluster for the most part. He was 7-6 with a 3.07 GAA and a 0.904 save percentage last year. This is a good first round matchup for Rinne though. Dallas has scored the third least goals in the NHL.
Nashville Predators
This Stars vs Predators playoff preview observes that Nashville looks stacked through all four lines. They are finally completely healthy and are extremely deep. The top unit of Ryan Johansen (14-50-64), Viktor Arvidsson (34-14-48), and Filip Forsberg (28-22-50) can put up big numbers. Nashville also supplemented their lineup with trades during the year which greatly improved their forward corps. Mikael Granlund and Wayne Simmonds were both acquired at the trade deadline from Minnesota and Philadelphia respectively. Granlund finished with 54 points on the year and gives second line center Kyle Turris a threat on his left side. Wayne Simmonds was previously playing a large role on the Flyers, but has been playing on the fourth line for the Preds.
Nashville also has some of the best defensemen in the league. Four of their D-men averaged over 22 minutes a game. Roman Josi and PK Subban are both among the NHL's best offensive D-men. While Subban dealt with injury issues this year he still finished with 31 points. Josi played in all 82 games and had 56 points which was 9th among all defensemen. Mattias Ekholm and Ryan Ellis both had tremendous seasons. They each put up more than 40 points while posting plus-minus ratings of +27 and +21 respectively.
Dallas Stars
Dallas does not have anywhere near the depth that Nashville does. They are very top heavy and have only four forwards with more than 30 points on the year. Tyler Seguin led the team in both goals and points with 33 and 80 respectively. Alexander Radulov (29-43-72) was second in both categories. Mats Zuccarello may prove to be an offensive threat if he can stay healthy. He only played in two games after being traded to the Stars but had 3 points in the contests. Jamie Benn (27-26-53) is the only other forward who has put up significant numbers this year. After these four scoring potential drops off significantly.
Just like with their forward group, Dallas has some talent on the blueline but not the depth Nashville does. John Klingberg (10-35-45) is their only truly elite defenseman right now. Miro Heiskanen had a great rookie season and looks ready for a strong career but he isn't in the same league as Klingberg yet. Esa Lindell has been good as well but after him the Stars' depth drops off significantly.
Stars vs Predators Playoff Preview
With the depth of Nashville's blueline, the Stars will need to figure out a way to get secondary scoring. There will be very few favorable matchups for Seguin, Benn, or Radulov. Our Stars vs Predators Playoff Preview sees Nashville as the stronger team and expects them to come away with the series win.
Stars vs Predators Playoff Preview
Nashville Predators over the Dallas Stars in 6 games