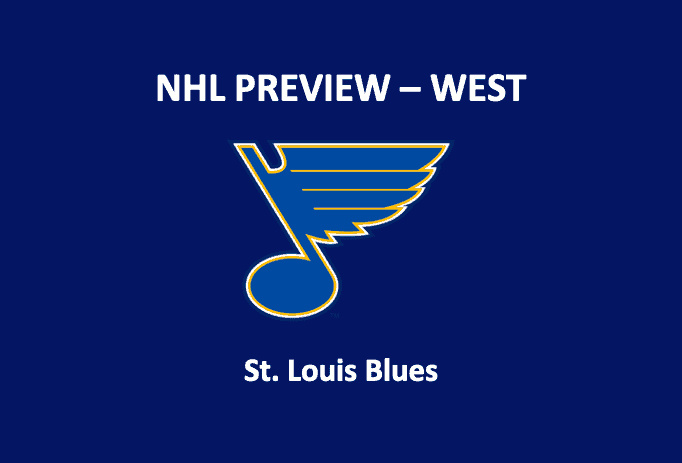 The St. Louis Blues finished atop the Western Conference during the 2019-2020 season. Their 42-19-10 record netted them 94 points, the second most among all NHL clubs. Despite this they performed poorly in the playoffs. They were bounced from the NHL bubble in six games by Vancouver. This year, The Blues roster looks very different than in previous seasons, especially on the blueline. Our St Louis Blues Preview 2021 looks at whether these changes will have a positive or negative impact on their performance this season.
Blues Forwards
The Blues forward group added a big piece over the offseason, although they will be without a star winger to start the year. While Vladimir Tarasenko is projected to start the year on the IR, they signed key free agent Mike Hoffman to a PTO on January 4th. Hoffman should be capable of replicating Tarasenko's goal production while the latter is out, and the Blues will most certainly get a boost when the Russian winger returns.
Last season Hoffman was on pace to break the 30 goal mark for a second straight season before COVID caused the season to end. He finished with 29 goals and 30 assists in 59 games. While Tarasenko missed most of the 2019-2020 season due to injury, he had five consecutive seasons with more than 30 goals prior to last year. Once both snipers are healthy the Blues will have lethal scoring depth on the right wing.
Other Contributors
Even without Tarasenko for the majority of last season, St. Louis still scored the 11th most goals in the NHL. Newly named captain Ryan O'Reilly, as well as David Perron, Brayden Schenn, and Jaden Schwartz all factored significantly into the club's offensive output. Perron and Schenn both scored 25 goals to finish tied for the team lead. O'Reilly led the club with 61 points in 71 games.
Schwartz finished with 22 goals and 25 assists. This was a drastic increase from the 36 points he had in 2018-2019. All of the Blues top forwards are capable of scoring. While they will miss Tarasenko while he is out, last season they proved that they have little trouble scoring while he is hurt. On top of that they added a pure sniper in Hoffman, who will most certainly make their offense even more deadly this season. St. Louis is in a weak division overall. They should have little trouble scoring goals in 2021.
St Louis Blues Preview 2021 – Defense
The core of St Louis' blueline will look very different than in previous seasons. Captain Alex Peitrangelo was allowed to walk via free agency, while Torey Krug was brought in. Krug is one of the top offensive defensemen in the NHL. He will be tasked with replacing the void of offensive production left by the Blues' former captain. Peitrangelo had 16 goals and 36 assists last season. He also managed to post 22 points when quarterbacking the powerplay. Krug had 20 points with the man advantage along with 21 even strength points.
The bigger question is how St. Louis will replace Peitrangelo's contributions in their own end. The Blues' are expecting Colton Parayko to step up in this area. Colton Parayko will be tasked with filling the defensive void left by Peitranelo. Parayko logged 23 minutes per game during the 2019-2020 season. He had a +8 plus-minus along with 28 points in 64 games. Together, Krug and Parayko should have the tools to replace Peitrangelo.
The Blues also have some solid defensemen in Justin Faulk and Vince Dunn as well. Faulk played 20:34 minutes per game last year. Dunn was utilized for slightly over 16 minutes per game but led the Blues' defense corps in plus-minus (+15). Dunn had 13 points at even strength along with 10 on the powerplay. He is likely to see powerplay time on the club's second unit once again in 2021.
St Louis Goaltending
St. Louis could be one of the few teams in the NHL that leans on their top netminder much more than their backup. Jordan Binnington started 50 games last season and enters his third NHL season. Last year he compiled a 2.56 GAA and a .912 save percentage. While these numbers were not as impressive as those of this rookie season, Binnington was still a better than average goaltender last year.
The Blues backup is slated to be Ville Husso, who has yet to play an NHL game. Husso spent last season with St. Louis' AHL affiliate in San Antonio. He wasn't particularly impressive going 16-17-12 in 42 games. The Finnish netminder had a .909 save percentage and a 2.56 GAA. This unique season might be a good year for Husso to get his first NHL stint. He could see the bulk of his starts against weak Anaheim, San Jose, and Los Angeles rosters which lack offensive firepower.
St Louis Blues Preview 2021: Outlook
Our St. Louis Blues Preview 2021 sees the biggest question marks for the Blues this season as being whether they can adequately replace Alex Peitrangelo, along with if backup netminder Ville Husso can perform in the NHL. Bringing in Torey Krug will definitely help replace Peitrangelo's offensive production. Colton Parayko will likely be tasked to be St. Louis shutdown presence in the defensive zone. In net Husso will likely benefit from playing in a weak division this season. The Blues addition of Mike Hoffman also solidifies a potent forward group. The depth of St. Louis' lineup, combined with the number of weak teams in the West Division make the Blues a lock for a playoff spot.
St Louis Blues Preview 2021: Projection
Record: 31-17-8, 70 points
Finish: 2nd in the West Division