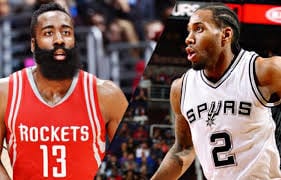 The Spurs travel to Houston to play the Rockets tonight up three games to two. San Antonio won a close one on Tuesday to take the series lead. It was a back and forth game that finally saw the home team take it 110 to 107. What will happen with game six is tough to determine since this has not really been a home court series that outs the away team at a disadvantage. Each team has won a game at their opponent's venue. With that in mind, here's our Spurs play Rockets NBA West game six free pick.
Important Players
Although the Spurs have felt the loss of point man Tony Parker, the fact is they have found ways to win without him. PG Patti Mills is averaging 10.4 PPG and that certainly helps. Plus, the Spurs have a solid core of guys in the frontcourt who are led by SF Kawhi Leonard. Leonard tops the team in points per game (27.8), rebounding (7.7), and assists (4.7). PF LaMarcus Aldridge has been good for a healthy 15.3 PPG and 7.6 RPG. Both Aldridge and Leonard. Have been solid on defense. Pau Gasol has also contributed at both ends of the court.
In the Rocket loss the other night, fewer players contributed than in their previous win and, as has happened in previous losses, James Harden had to do much of the work. He tossed in 33 points in the losing effort as Houston used just seven players in that game. In the playoffs, Harden is averaging 30.3 PPG but just 8.6 APG. This team does much better when he scores a bit less and assists a bit more. The Rockets have seven players who are averaging double digits in the playoffs. Making sure five of them score at least 10 points each will give this team a chance at scoring a game six win. SGs Eric Gordon and Lou Williams are both important contributors. Center Chris Capela needs to have a good game in the paint for the Rockets.
Five Keys to the Game
Stellar play by Spur frontcourt
Accurate outside shooting by Rockets
Battle under the basket
Team play by Houston
Controlling the pace of the game by Spurs
Spurs Play Rockets NBA West Game Six Free Pick
San Antonio has a golden opportunity to close out this series and move onto the very tough Golden State Warriors. Harden may try to do it all, and that may hurt Houston's chances. Our Spurs play Rockets NBA West game six free pick is San Antonio at +6.5 points. We also like the over at 213.5.
Spurs Play Rockets NBA West Game Six Free Pick: Spurs at +6.5 and over 213.5