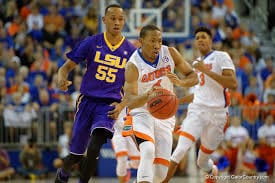 The Elite Eight East Regional winner will be from the SEC. That's for sure. This game, which will tip off at 2:20 p.m. in Madison Square Garden, features the #7 South Carolina Gamecocks at the #4 Florida Gators. Neither team was expected to be here. In fact most prognosticators envisioned as classic match between #2 Duke and #1 Villanova. But instead, we have our South Carolina plays Florida 2017 Elite Eight free pick, with the Gators favored by 3.5 points and the over/under at 136.5.
In the SEC, Carolina had a record of 12-6. In the 2017 NCAA Tournament, the Gamecocks beat #10 Marquette by 20 points in round one. The final in that contest was 93-73. In the second round, they completely surprised #2 Duke, beating them 88-81. The Sweet 16 game saw them take out what was a very good #3 Baylor Bears 70-50. In March Madness, the Gamecocks have risen to the occasion each time and in the last two games have beaten higher seeds.
The Florida Gators were a little better in the SEC than the Gamecocks. Their conference record was 14-4. In March Madness 2017, they have destroyed their opponents in the first two rounds. In the initial round, Florida easily beat #13 East Tennessee State 80-65. They then hammered a very fine #5 Virginia team winning 65-39. The third round victory was hard-fought as #8 Wisconsin gave Florida everything they had. The final was 84-83.
South Carolina Gamecocks
The Gamecocks limited Baylor to 30% shooting and forced 16 turnovers. They feature the SEC Player of the Year Sidarius Thornwell. Thornwell is a major force on both offense and defense. He's the team's leading scorer, averaging 21.4 PPG, and he's also the top rebounder, capturing 7.4 RPG. On defense, he's averaging 2.2 SPG and 1.0 BPG.
Three other players are averaging double-digit scoring, with P.J. Dozier hitting for 13.7 PPG while taking down 4.7 RPG. Duane Notice averages 10.3 PPG. Together he and Dozier are good for three steals per game. The other important point producer is Chris Silva who's putting in 10.1 PPG while hitting 54% of his shots and making 1.3 BPG.
Florida Gators
The Gators feature three double-digit scorers and then bring five other players to the court who are putting in anywhere from six to nine points per game. The bench is big on this team. Play like Chris Chiozza, Justin Leon and Kevarrius Hayes are averaging from 18 to 22 MPG while contributing a total of 20 PPG.
The top point maker for the Gators is guard KeVaughn Allen, a 44% shooter who's good for 14.1 PPG. Devin Robinson, who is connecting on 39% of his threes, is averaging 11.3 PPG while grabbing 6.3 RPG. Six-foot-11 center John Egbunu leads the club in rebounds, averaging 6.6 per game, while scoring 7.8 PPG and averaging 1.5 BPG. He's a 54% shooter. Canyon Barry is second in scoring with 11.6 PPG and Kasey Hill is adding 9.7 PPG while making 4.5 APG. Allen, Hill and Chiozza are solid defenders.
South Carolina Plays Florida 2017 Elite Eight Free Pick
In the regular season, these two teams split their series. On Jan. 18, the Gamecocks beat the Gators 57-53. Then on Feb. 24 Florida won 84-83. If South Carolina can play the tough defense for which they are noted, they'll have a good chance of winning. If this game becomes a shootout, then the Gators are favored.
Our South Carolina plays Florida 2017 Elite Eight free pick likes the over at 136.5 and the Gamecocks at +3.5. We are expecting a close, intense game. Note, for the first time since 1986, the SEC has three teams in the Elite Eight and also for the first time since 1986 two SEC clubs will meet in an Elite Eight contest.
South Carolina Plays Florida 2017 Elite Eight Free Pick: South Carolina at +3.5 and over 136.5