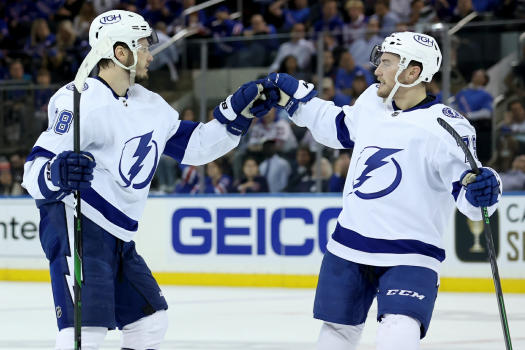 We've reached a crossroads heading into the Rangers at Lightning game 6 betting preview. Tampa Bay has a 3-2 lead in the Eastern Conference Finals as they try to advance in an effort to win a third straight Stanley Cup. The Lightning have won 10 straight postseason series.
New York is up against it in an elimination game against the 2X defending champs, but the Rangers were also down 3-2 in the first round to Pittsburgh and in the semifinals against Carolina – advancing in both. Despite New York's success in this spot the past two rounds, the Lightning are a -208 favorite at home with their highest price tag of the series.
Rangers in a Familiar Spot
New York has to be a bit disappointed after losing Game 5 back at home 3-1 on Thursday as +126 underdogs. The Rangers were able to capture a 6-2 and a 3-2 win at Madison Square Garden in games 1 and 2 but the Game 5 defeat puts them up against the ropes.
The one saving grace New York has ahead of the Rangers at Lightning Game 6 betting matchup is that they've been here before. New York was able to get a 5-3 and a 4-3 win over the Penguins the last two games of the 1st round to advance and then beat Carolina 5-2 and 6-2 while facing elimination.
It could be a different animal trying to take two straight from the 2X defending champions compared to Pittsburgh and the Hurricanes. Most of the pressure on Saturday night falls on Igor Shesterkin in net, who has given up 3 goals in each of the losses at Amalie Arena this series. Shesterkin did have 49 saves in the Game 3 loss so it's not like he's playing bad, and already facing elimination four times this postseason should be an advantage.
Tampa Bay Wants to End It Now
The Lightning are in a good spot with two chances to get a win for a return to the Stanley Cup Finals. Tampa Bay is 6-1 at home this postseason which includes a dominant 4-1 victory in Game 4 to cash in on the -178 favorite line.
If this series heads to 7 games Tampa Bay still has a good shot since they won on Thursday in New York, but at the same time the Avalanche have been sitting, resting, and scouting after getting a sweep in the Western Conference. The Lightning looked real good in taking back home ice advantage in Game 5 with the 3-1 win, with Ondrej Palat scoring the go-ahead, finding the back of the net for the 4th time this series.
Andrei Vasilevskiy has gotten back on track the last three games. The stalwart goaltender let up 9 scores in Games 1 and 2 in New York, but has asserted his dominance in giving up just 4 goals total over the last 3 games.
Free Rangers at Lightning Game 6 Betting Pick
The NHL would love a Game 7 back on the grand stage of New York, but they face an uphill battle to get to that point. Vasilevskiy has been just too good over the last three games, and he himself gives Tampa Bay the value for another big win in this spot.
Free Pick: Lightning -1.5 (+140)