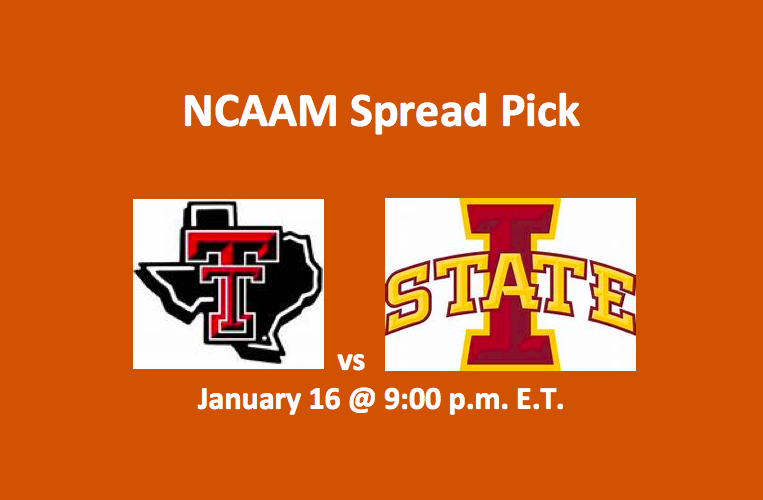 The Iowa State Cyclones (12-4 Overall, 2-2 Big 12) travel to play the #8 Texas Tech Red Raiders (15-1 Overall, 4-1 Big 12) tonight, Wednesday, Jan. 16 at 9:00 pm ET at the United Markets Arena in Lubbock, TX. Our college basketball Big 12 Red Raiders vs Cyclones pick offers Texas Tech at -5.0. The Red Raiders have won five straight with their only loss coming on Dec. 20 to #2 Duke. The Blue Devils beat Tech 69-58. Their last two wins were against #23 Oklahoma 65-59 and Texas 68-62. From Dec. 6 to Jan. 5, the Cyclones went on a five-game winning streak, beating #5 Kansas 77-60 on the last day of that streak. Since then, ISU has lost to Baylor 73-70 and Kansas State 58-57. Here's our NCAAM Red Raiders versus Cyclones pick.
Shooting Stats and Other Facts
There's not much difference between these two teams when it comes to shooting percentages. ISU is a bit better on field goals (48.1%-to-47.8%) and free throws (72.1%-to-71.4%). The Cyclones are also a bit better when it comes to threes, hitting 36.3% to the Red Raiders' 34.2%. ISU comes to this contest averaging 79.8 PPG and holding opponents to 64.6 PPG. Tech has been good for 72.7 PPG, a good seven points less than their opponents. But they are holding teams to 54.0 PPG. That's 10.6 points better than the Cyclones.
The Red Raiders do have a fine defense. They held Duke, a team averaging 90 PPG, to just 69 points. That is the major edge in this game statistically. That D, gives Texas Tech a combined PF/PA differential of +3.5.
Edge: Texas Tech
Backcourt
The Cyclone backcourt can score. Senior guard Marial Shayok leads ISU with 19.4 PPG, while freshman guard Talen Horton-Tucker is putting in 12.3 PPG. Shayok is shooting close to 52% from the field and is the best three-point man, hitting 38.5% of his attempts. In the backcourt, sophomore Lindell Wigginton is putting in 11.7 PPG. Horton-Tucker and Wigginton are combining for 9.8 RPG. All together, these three are putting in 43 PPG.
The Red Raiders backcourt is solid as they offer three top players who together are averaging almost 40 PPG. Sophomore guard Jarrett Culver leads the team in points, rebounds and assists per game with 18.7, 6.4, and 4.1 respectively. Plus, he at 56.3%, he tops the team in field goal percentage. Senior Matt Mooney is averaging 11.4 PPG and 4.0 RPG, while sophomore guard has been good for 9.8 PPG. Mooney is connecting on 40% of his threes.
Culver, for the Raiders, is the best guard amongst the six, as he is versatile and prolific. No one on the Cyclones quite matches up with him. Shayok, however, is a dynamite player who does not have quite as much game as Culver.
Edge: Texas Tech
Keys to Texas Tech Plays Iowa State Pick
ISU frontcourt offers more than Texas Tech
Raiders starters have advantage from downtown
Cyclones possess fine inside/out guards
With up temp game, Iowa State has more scoring potential than TT
Tech D can win game
Edge: Texas Tech
Our Red Raiders vs Cyclones Pick
Our Red Raiders vs Cyclones pick envisions this game as being fairly close. However, we do see Red Raiders being victorious tonight. They are an amazingly successful home team and are 10-0 this season at their home court, United Markets Arena. Our college basketball Big 12 prediction is Texas Tech by 5.0.
Summary #8 Texas Tech Red Raiders vs Iowa State Cyclone Spread Pick: Red Raiders at -5.0