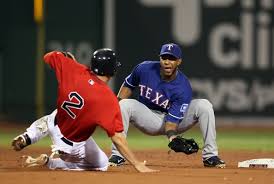 The Texas Rangers (24-22 Overall, 8-14 Away) are at Fenway Park for the second game of their three-game series with the Boston Red Sox (23-21 Overall, 13-9). The Red Sox had been struggling until they scored a total of 23 runs in their last two games. They are 5-5 for their last 10 and sport a RS/RA differential of +13. The Rangers came to Fenway having won 11 of their past 12. Last night, they fell 11-6. Our Rangers play Red Sox MLB free pick has Boston at -255 and Texas at +235. The over/under is at 8.0 and comes in at -107.
Pitching
Texas starter Martin Perez (2-5, 3.71 ERA) has not gotten much run support as of late and he has struggled against the Red Sox. He's faced the Red Sox four times and has gone 2-2 with a 6.58 ERA and 1.923 WHIP lifetime. At Fenway Park, Perez is 1-1 with a 9.58 in two starts. Perez did have a good May and his last start, which was against the Phillies, was strong. Against Philadelphia at home, he went seven innings, striking out eight, walking none and allowing two runs. That was on Thursday.
Chris Sale (4-2, 2.19 ERA), who has not lost since April 27, will be looking to notch his 100th strikeout of the season tonight. He's had a solid May thus far, striking out 43 in 28 innings and going 3-0 with one no-decision in four starts. Thus far this season, Sale has struck out a minimum of 10 batters in eight consecutive games. That mark ties a record set by Red Sox pitcher Pedro Martinez. It's hoped that he can keep Boston in the winning track tonight.
Hitting
As a team, Texas is hitting just .240. However, they are a good homerun club with 63 round trippers. Joey Gallo is hitting just .193 and Mike Napoli only .190, but they are the top homer hitting with 14 and 10 respectively. Texas hitters have not done well against Sale. As a starter versus the Rangers, Sale has a 4-2 record and is sporting a 3.29 ERA. Of current hitters, Shin-Soo Choo is 1-for-19 (.053) with 10 strikeouts, Elvin Andrus 2-for-23 (.087), and Mike Napoli 3-for-18 (.167) with a homer. Joey Gallo has gone 0-for-6. He has struck out in each of his six at bats against Sale.
The Red Sox bring a team batting average of .268. They have hit only 38 homers this season. In terms of homerun production, they are certainly missing David Ortiz who retired after last season. Mookie Betts is tops in homers with seven and RBI with 28. He's hitting .281. Xander Bogaerts leads the team in batting average with a .329 mark while Dustin Pedroia has a .293 BA. Against Perez, Chris Young is 4-for-7 (.429) with a homerun, Betts 3-for-6 (.500) and Hanley Ramirez 2-for-5 (.400). Interesting to note that Boston's two top hitters, Bogaerts and Pedroia, are just 1-for-1 (.100) and 3-for-14 (.214) versus Perez.
Rangers Play Red Sox MLB Free Pick
Chris Sale has been pitching well and the Red Sox bats have awaken as of late. Our Rangers play Red Sox MLB free pick is Boston at -255. The first pitch will be thrown at 7:10 p.m. E.T.
Rangers Play Red Sox MLB Free Pick: Boston at -255