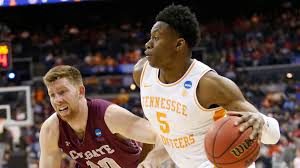 Our Purdue vs Tennessee preview and pick in the Sweet 16 has the Vols at -1.0. This Purdue vs Tennessee March Madness matchup will be played on Thursday, March 28 at 7:29 pm ET. This pair of college basketball's top teams will meet in the 2019 NCAA Tournament South Region contest at the KFC Yum! Center in Louisville, KY. To get to this point, in the initial round of play, The Purdue Boilermakers beat 14th-seed Old Dominion 61-48. In Round Two, they took on sixth-seed the Villanova Wildcats, beating them 87-61. The Tennessee Volunteers have played two games that have been reasonably close. In the first round of the 2019 NCAAM Tournament, they beat 15th-seed Colgate 77-70. They then played 10th-seed Iowa. It took an OT for the Vols to beat the Hawkeyes 83-77.
Purdue Boilermakers
Despite the fact that the Boilermakers did not play well in their first-round game against ODU, they managed to win fairly easily. In that contest, Purdue shot just 37.7% from the floor, 30% from downtown, and 66.7% from the free throw line. Purdue did much better against Villanova, winning that game by 26 points. In that second-round contest, the Boilermakers were good on 53.7% of their field goals and 53.3% of their three-pointers. They also shot 81.3% from the charity stripe. Between both games, Purdue averaged 43 RPG and 15.5 APG. The team kept personal fouls and turnovers to a minimum, as they averaged 12.5 PF and 11.5 TO.
Our Purdue vs Tennessee preview observes that center Matt Haarms was the anchor in the frontcourt, and guard Carsen Edwards the engine in the backcourt. In both games, each of these players performed well. Haarms averaged 15.1 PPG and 6.5 RPG. Edwards tossed in 26 points against ODU, and then he put up 42 versus Nova. Also in the backcourt, Ryan Kline averaged 8.6 PPG, 4.0 APG, and 5.5 RPG. The Boilermakers certainly have some key, go-to players, but they do not have a lot of depth.
Tennessee Volunteers
Our Purdue vs Tennessee preview notes that the Vols have shot well over the course of their first two 2019 March Madness games. Their combined field goal success rate comes in at 46.8% and the team's three-point mark is 37.3%. From the free throw line, Tennessee has been successful 77.7% of the time. Although they managed to mitigate personal fouls in the first game, they committed 21 in the contest versus Iowa. In rebounding, the Vols averaged 36 per game and in assists they had 12.5 per contest.
Tennessee features four guards who are capable of putting points on the scoreboard quickly. Over the first two March Madness games, senior Admiral Schofield averaged 19 PPG, while Jordan Bone scored 15 PPG. Lamont Turner was good for 15 PPG and 4.5 APG. Off the bench, guard Jordan Bowden put up 18 against Colgate and eight versus the Hawkeyes. Junior forward Grant Williams scored nine against the Raiders and 19 versus Iowa. He's averaged seven rebounds and four assists per game.
NCAAM Sweet 16 Purdue vs Tennessee Preview – Our Pick
The Tennessee Volunteers have played consistently in this tournament, while Purdue struggled in game one. The Vols certainly have more players who can produce points, while the Boilermakers feature a few top guys that they can go to. Our Purdue vs Tennessee preview does like the Volunteers, even though they've allowed teams to stay in the game. We are taking Tennessee at -1.0. Will it be that close? If the Vols win, then there's a good chance this game could be a one to three point affair.
Summary South Region, Sweet 16 – Purdue vs Tennessee Preview: Pick is Tennessee Volunteers at -1.0