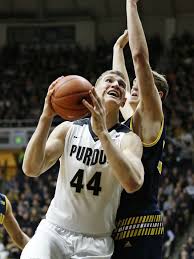 The #20 Purdue Boilermakers (12-3 Overall, 1-1 Big Ten) play the Ohio State Buckeyes (0-1 Big Ten, 10-4 Overall) at the Value City Arena in Columbus, Ohio. This Big Ten Conference game sees a matchup between a smaller OSU team with a solid defense and a bigger Boilermakers' club that scores points in bundles. Our Purdue plays Ohio State college basketball free pick offers Purdue at -3.5. The spread may make this look like an easy call. However, Purdue has a tough time winning at Value City Arena. The Buckeyes have beaten them there four straight and the Boilermakers have won their just once in the past 14 times.
Purdue is coming off an upset OT loss to the Minnesota Gophers on Sunday. The final score was 91-82. Before Sunday, they had won seven straight. Ohio State opened Big Ten play with a 75-70 loss to Illinois. They had beaten Illinois in their prior three meetings. OSU has lost three games this season by four or fewer points.
#20 Purdue Boilermakers
The Purdue Boilermakers have a frontcourt ranging from 6' 8" forward Vince Edwards to 7' 2" center Isaac Haas. At 6' 9" forward Caleb Swanigan is in the middle when it comes to height but he's the team's top scorer and rebounder. Swanigan (18.5 PPG, 13.0 RPG, 56 FG%) is capable of a double-double at anytime. At center, Haas (13.9 PPG, 5.2 RPG, 62 FG%) is a dominant presence. Edwards (12.1 PPG, 5.4 RPG, 47 FG%) is a 45% three-point shooter. Guard Dakota Mathias (9.7 PPG, 4.2 APG, 48 FG%) is the playmaker who also has a 50% three-point mark.
Ohio State Buckeyes
OSU big man Trevor Thompson (10.4 PPG, 8.8 RPG, 63 FG%), the Buckeyes' 7'0" center, will battle Purdue's Haas. Thompson has 1.9 BPG. Forward Jae'Sean Tate (13.9 PPG, 6.9 RPG, 54 FG%) is the team's top scorer. Mark Loving (11.6 PPG, 4.8 RPG, 44 FG%), senior forward, offers additional points and rebounds.
Guard JaQuan Lyle (11.9 PPG, 5.7 APG, 46 FG%) is OSU's playmaker. Also at guard, Kam Williams (10.8 PPG, 1.9 RPG, 44 FG%) is shooting 93% from the free throw line. He's also good on 41% from beyond the arc.
Purdue Plays Ohio State College Basketball Free Pick
The Boilermakers top the Buckeyes in just about every offensive area. They dominate in PPG 84 to 75, 49 FG% to 48 FG% and 41-3PT% to 33-3PT%. OSU has outpaced Purdue in blocks per game four to three.
The Boilermakers are coming off a disappointing loss and are looking to get back on track. OSU is poised to battle Purdue. However, Purdue should hit the mark in this game. Our Purdue plays Ohio State college basketball free pick is the Boilermakers at -3.5.
The game will be played on Jan. 5 with a 7:00 p.m. ET tipoff.
Purdue Plays Ohio State College Basketball Free Pick: Purdue -3.5