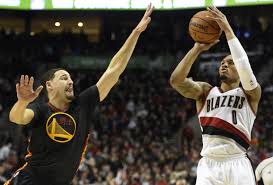 At 3:30 p.m. on Sunday, Apr. 16, the eighth seed in the West, the Portland Trailblazers (41-41), will play the first seed in the West and the top team in the league, the Golden State Warriors (67-15). Despite the fact that Golden State won all four games in the regular season, with two of those wins by 23 or more points, that does not mean that this will be an easy series. Last year, it went five games and the Blazers battled well. Get the inside information in our Portland plays Golden State 2017 NBA playoff free pick right here.
Portland Trailblazers Keys
The Trail Blazers have a PF/PA differential of -0.5 as they are allowing 108.5 while scoring on average 107.9. Portland is 14th in field goals completion with a 45.9% mark and 14th in frees at 78%, but they are sixth in three-pointers at 35.7%. They are also 14th in rebounding, averaging 43.7 per game and 23rd in steals 7.0 per contest.
The Blazers have a few players who are dealing with injuries and may or may not play, including SG C.J. McCollum (23.0 PPG, 3.6 RPG, 48 FG%), a 42% three-point shooter, and center Jusuf Nurkic (15.2 PPG, 10.4 RPG, 51 FG%), the team-leader in rebounding. Nurkic is averaging 1.25 SPG and 1.90 BPG. Look for PG Damian Lillard (27 PPG, 5.9 APG, 44 FG%) to be a major contributor in this series. His downtown shot is good 37% of the time. Center Mason Plumlee (11.1 PPG, 8.0 RPG, 53 FG%) will be an essential part of the team's frontcourt game.
Golden State Warriors Keys
The Warriors top the NBA in many categories, including points per game, averaging 115.9. Their team defense is decent, as they are limiting teams to 104.3 PPG, giving them a massive differential of +11.6, which is also first in the league. They are hitting 49.5% of their shots, also best in the NBA, and grabbing 44.4 RPG, which is seventh. They lead the NBA in steals per game, 9.6, and blocks per game, 6.8.
The Warriors have an very impressive roster as three of the four players who are scoring in double-digits are averaging 22.3 PPG or better. PG, Stephen Curry (25.3 PPG, 6.6 APG, 47 FG%). SF Kevin Durant (25.1 PPG, 8.3 RPG, 4.8 APG), and SG Klay Thompson (22.3 PPG, 47 FG%, 41 3PT%) are one of the best triumvirates in the NBA. Curry is not only a great shot but a masterful setup man, while Durant is a smart, athletic inside player. Thompson can kill you with his shooting. Then there is also PF Draymond Green, a 42% shooter who is good for 10.4 PPG, 7.9 RPG, and 7.0 APG, and SF Andre Iguodala, who's hitting 53% of his shots while playing tough D.
Top Series factors
Here are major factors that will help determine this series outcome:
Golden State is loaded once again
Warriors dominated in the regular season
Golden State is 36-5 at home and Blazers are 16-25 away
Blazers can hit threes
Portland injuries are worrisome
Warriors have shooters galore
Portland Plays Golden State 2017 NBA Playoff Free Pick
Will this be blowout city? The answer is maybe or maybe not as it's always hard to tell with the NBA. But we do think that the Warriors will win and within five games. Our Portland plays Golden State 2017 NBA playoff free pick is Golden State in five. The first game is at 3:30 p.m.
Portland Plays Golden State 2017 NBA Playoff Free Pick: Golden State in five