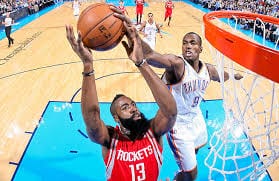 Our NBA pick offers a huge matchup between Mr. Triple-Double Russell Westbrook and Mr. Double-Double James Harden. The Rockets are favored by 8.5 points, which may seem like and could be a lot. Then again, this is the NBA and despite the fact that the Thunder have one of the premiere players in the league, that one player can't make up for other deficiencies. Here is our Oklahoma City plays Houston NBA free pick.
The Oklahoma City Thunder (21-15) are fifth in the Western Conference. They've lost two straight and are six of their last 10 but 1-3 for their past four. Their last win was against the Clippers 114-88. Their last two games saw them lose to the Bucks 98-94 and the Hornets 123-122. The Houston Rockets (27-9) are third in the conference. They have a home mark of 14-3 and have won their last five. They're 8-2 for their last 10.
Oklahoma City Thunder
PG Russell Westbrook (30.9 PPG, 10.5 RPG, 10.5 APG) is not quite a one-man team, but he's certainly close. He also leads in minutes played, which means that during tonight's game, after a four-game road trip and playing one last night, Westbrook may be a tad tired. Shooting guard Victor Olapido (16.2 PPG), who returned to the lineup three games ago after missing nine games, is an essential to the team's scoring. The frontcourt includes two centers, Enes Kanter (12.2 PPG, 7.8 RPG) and Steven Adams (12.2 PPG, 7.8 RPG).
Houston Rockets
For the Houston Rockets, the man is SG James Harden (28.4 PPG, 8.2 RPG, 11.9 APG). Harden is having an amazing season. The man across from him, SG Eric Gordon (17.7 PPG) is connecting on 43% of his threes. The Rockets dominate the Thunder when it comes to three-point shots hitting 38% to Oklahoma City's 33% and averaging 15- 3PTMPG to Oklahoma City's 8.4. The three frontcourt starters are responsible for 38 PPG and 18.6 RPG. SF Trevor Ariza is averaging 2.17 SPG and center Clint Capela is making 1.57 BPG.
Oklahoma City Plays Houston NBA Free Pick
This is Oklahoma City's fourth and final game on the road and second game in two nights. They were in Charlotte last night. The Rockets are playing their fourth straight and final home game of this stand. They last played on Jan. 2.
Houston is scoring 114.6 PPG and allowing 106.7 for a PF/PA difference of +7.9. The Thunder have scored an average of 106.2 PPG and allowed 104.9 for a differential of +1.3. The Rockets have a more effective defense and a more dynamic offense. They are rested and ready to go.
Our Oklahoma City at Houston NBA free pick is Houston at -8.5 The game will be played at 8 p.m. ET on Jan.5.
Oklahoma City Plays Houston NBA Free Pick: Houston at -8.5