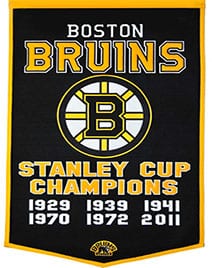 Overview
The Philadelphia Flyers open up the season on the road in Boston tonight when they take on the Bruins. The Boston Bruins have absolutely owned the Flyers over the past few seasons winning 13 of the last 16 meetings which includes 6 of the last 7 in Boston.
Head to Head Trends
Flyers are 3-13 in the last 16 meetings.
Flyers are 1-6 in the last 7 meetings in Boston.
Boston Bruins (-179)
The Boston Bruins finished 1st in the Atlantic division with 117 points last season which was also tops in the entire NHL. The Bruins were and still are a very well rounded and deep team. They had the second best offense last season with 261 goals plus they also had the second best defense allowing just 177 goals. With 261 goals for and 177 goals against the Bruins had a +84 goal differential which was obviously the best in the league but just to show how good it was the second best goal differential was +57 by the Anaheim Ducks a full 27 goals less then the Bruins. The Bruins had 54 wins and 28 losses overall last season but it was at home where they were most dominate with 31 wins versus just 10 losses.
Boston Bruins Trends
Bruins are 17-4 in their last 21 vs. Metropolitan.
Bruins are 52-24 in their last 76 vs. Eastern Conference.
Philadelphia Flyers (+169)
The Philadelphia Flyers finished 3rd in the Metropolitan division with 94 points last season. The Flyers were just 2 games over .500 last season with a 42-40 record with most of their success coming at home where they were 24-17 versus on the road where they were just 18-23. The Flyers had a solid offense with 236 goals on the season but they had just the 20th best defense allowing 235 goals.
Philadelphia Flyers Trends
Flyers are 3-7 in their last 10 road games.
Over is 23-6-3 in Flyers last 32 road games.
Conclusion
It's early in the season and there's not a lot to go on except what a team is like on paper which is not always all that accurate like the Colorado Avalanche last season who seemingly came out of no where. There are a few things we do know like the Bruins are still the deepest team in the league and will be a force to recon with again this season while the Flyers will more then likely just be an average team and will be lucky to make the playoffs.
Free Pick: Boston Bruins -179