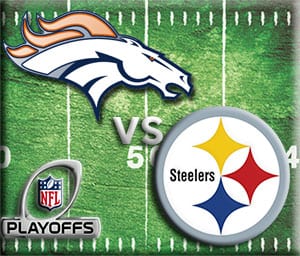 The Pittsburgh Steelers and Denver Broncos clash for the second time this year, when Mike Tomlin's wild bunch head back to Colorado for a Divisional Round playoff battle. The Steelers won a thrilling shootout just a few weeks ago, but come in at far less than 100% and are the mild underdogs.
Matchup History
Denver and Pittsburgh have faced off three times since 2012, with the Steelers claiming the most recent meeting this season and Denver holding a 2-1 advantage. The Broncos won one of those games in the playoffs, as few can forget Tim Tebow's wild ride and miraculous OT winner. Peyton Manning is just 1-1 in this series as a member of the Broncos, while the long view shows Denver up top with an 18-11-1 record over the course of the series. The only meeting that had Manning and Ben Roethlisberger healthy against each other came the season after their thrilling playoff game, where Manning led a much improved Broncos team in a 31-19 rout. Both sides are in very different places than they were then, however, so it could be tough to lean on any past history going into this weekend's clash.
Steelers Preview (+7.5)
If Pittsburgh were completely healthy we may be looking at this game very differently. Unfortunately they're far from it, as star wide receiver Antonio Brown (concussion) has already been ruled out, quarterback Ben Roethlisberger (shoulder) is iffy and running back DeAngelo Williams is extremely doubtful (foot). That leaves a once potent Steelers offense looking rather gimpy in a tough road game where an elite Broncos defense is likely licking their chops. Pittsburgh isn't completely dead on paper if Big Ben can suit up, however, as they still have solid weapons in Martavis Bryant, Markus Wheaton and Heath Miller to lean on offensively, while Pittsburgh's strong run defense could potentially force Peyton Manning to beat them.
Broncos Preview (-7.5)
Asking Manning to beat your in year's past was just asking for trouble, but he's shown his age this year and may be at the end. He looked healthier and a little revitalized in week 17, however, when he took over for a struggling Brock Osweiler and did just enough to get the Broncos the AFC West title and a first round bye. Whether or not he can exploit a very shaky Steelers pass defense is up for debate, while Denver's improving running game could be in trouble if they can't get past the Steelers' strong run defense. Denver's elite defense could absolutely shoulder the load, however, but if they play anything like they did the last time these two teams faced (34 points allowed), the Broncos could be in big trouble.
The NFL moneyline odds at BetOnline is at -335 for the Broncos and with spread the Steelers are now getting +7.5 points.
The Pick
The last meeting being a shootout is somewhat troublesome, but Denver's defense is quite good and it's going to be tough to bet against them in a home playoff game. On top of that, the Steelers are without a guy that caught an insane 136 passes this year, so to say they'll miss him would be a grand understatement. It's not impossible to imagine Roethlisberger putting the offense on his back and repeating that huge performance of a few weeks ago, but it feels rather unrealistic.
The against the spread digits probably help the Steelers, as Pittsburgh is a strong 7-3-1 ATS in their last 11 road games, while Denver is a weak 1-4 ATS in their last five home games.
None of that can make up for the loss of up to three key offensive players, though. I see a more one-sided affair with Denver winning and covering.