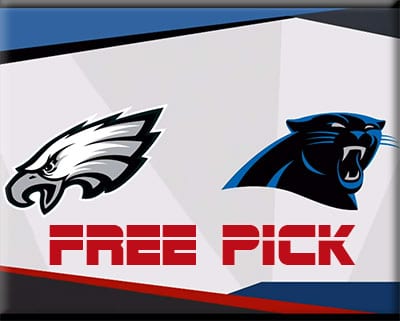 The Philadelphia Eagles and Carolina Panthers are two very different teams compared to what we expected them to be. For all of his perceived insanity, Chip Kelly still appeared to know what he was doing the past two years. His Eagles have won 10 games in both of his seasons on the job, and two years ago he found a way to win the NFC East with Nick Foles. Numerous crazy moves later, it's become harder to trust in his genius with Sam Bradford drowning in a sea of turnovers and Philly struggling to a 3-3 start.
It's just the opposite for the Panthers, who backed into their second straight division title last year and after star receiver Kelvin Benjamin went down in the preseason, appeared headed for serious regression. Many discounted Cam Newton's ability to put this team on his shoulders, however, and that's exactly what he's done en route to a fairly impressive 5-0 start. In week seven the madness that is Chip Kelly's genius clashes with Newton's Panthers in Carolina, putting perfection and sanity on the line.
Matchup History
There isn't a lengthy or storied history between these two teams, as they've met just nine times with the Eagles hold the edge, 6-3. Every game has been it's own creation, too, as the end result has been quite random and tough to gauge. For example, the Eagles crushed the Panthers 45-21 in Philly last year and in the same setting two years earlier, the Panthers won a tight battle, 30-22. The time before that in 2009, Philly won in another blowout, 38-10. The Eagles have had the recent edge with four wins in the past five showdowns, but with these matchups stretched out so much, it's foolish to go off of these results. All we know that applies is that the Eagles smoked the Panthers at home last year. Carolina appears to be a far better team this time around, however, and for the first time since 2009 will finally be playing host in this matchup.
Eagles Preview (+3)
There is a lot to like about the Eagles. For one, they didn't back down after a tough 0-2 start and despite Sam Bradford's struggles and a slow start by DeMarco Murray, they're 3-3 and atop the NFC East. That all by itself is somewhat impressive. Murray has stormed back from an epicly bad debut, too, and has been a monster over the past few games. He's specifically put the Eagles on his back the past two contests, and even topped 100 rushing yards last week for the first time since joining the team this off-season. The defense has also shown up big a few times this year, as they tend to put pressure on the quarterback, can stifle the run and best of all, create turnovers. One of their best performances came on the road in week three, too, where they saved their season with a convincing 24-7 dominance of the New York Jets. While all of that sounds good, none of it really comes together to suggest they can go into Carolina on Sunday Night Football and be the first team to beat the Panthers in 2015.
.@DarrenSproles. To. The. House. Last time the @Panthers and @Eagles played… #fbf #PHIvsCAR https://t.co/HCqylgwxqw

— NFL (@NFL) October 24, 2015
Panthers Preview (-3)
Before last week, a case could be made against the Panthers that they're fairly overrated. They were a solid 4-0 before facing the Seahawks in Seattle last week, but they hadn't really beaten anyone and most of their wins were close weren't impressive. Last week's clutch win over the 'Hawks was close, too, but it finally showed Carolina could win a big game on the road – and in dramatic fashion. The testing continues this week, as the Panthers continue to try to stay perfect against a feisty Eagles team that is hungry to get above .500 for the first time this year. On paper, Carolina seems to hold the edge in most regards, as the Eagles can be passed on and Sam Bradford and Philly's passing game isn't a strong matchup against Carolina's stingy secondary. Add in the bright lights of SNF, and it's tough to imagine Cam Newton and co. turning up lame on such a huge stage.
The Pick
Carolina has been a total monster at home against the spread for a while now, as they're a staggering 14-1 straight up and 10-4-1 against the spread in their last 15 contests when favored on their home field. Yikes. Carolina was already the favorite as an undefeated team that seems to be better in just about every facet, so this could very well be the icing on the cake for many.
With such a weak line, we know two things going into this game: Philly is probably a little underrated and this is pretty close to being a pick'em game. I don't really care about all that noise, though. I don't even care about Carolina's sick ATS stats (they're also 5-0 ATS this year) or that Philly is just 3-3 ATS in 2015. Nope, don't care.
What I do care about is that Sam Bradford turns the ball over way too much and never looks very comfortable. Or that DeMarco Murray is Philly's only real hope and Carolina's run defense is no cakewalk. Or that Carolina has a tough pass defense and Jordan Matthews keeps dropping the football. All of that, and the Eagles are just impossible to trust.
Besides, can you really see Cam and co. showing up in front of the nation and letting the Eagles whip them around on their home field? I can't.
Because of that, I like Carolina straight up AND to cover!