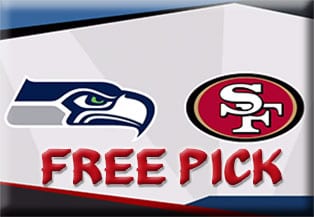 The NFC West isn't what we thought it was. The Arizona Cardinals are dominating the territory the mighty Seattle Seahawks and San Francisco 49ers once ruled, and come Thursday Night Football, it's possible only one of these formerly elite teams will have something to say about it.
San Francisco has been a serious shell of their former self on both sides of the ball, and they'll enter this week seven home date with a paltry 2-4 record. A win over Seattle would get them one step closer to .500 and second place in the division, however, while they would also hold the tie-breaker over the 'Hawks. Ditto for Seattle, as they come in at 2-4 as well and can't afford to lose a third straight game.
Matchup History
This is one of the more intense rivalries in the entire league right now, and that's saying something for two teams that have only been in the same conference, let alone the same division, since 2002. Things have gotten much nastier in the past 13 years, but throughout history the series has stayed extremely tight, with Seattle holding the narrow lead, 18-15 in 33 battles. Seattle has specifically held the upper hand the past couple of years, as they've won five of the last six games and three straight dating back to 2013. In fact, even in the last three games the Seahawks did lose to the 49ers, they only did so by a combined score of 11 points. It's probably safe to say Seattle is in San Francisco's head.
49ers Preview (+6.5)
It's been an ugly season for the Niners, who looked like their old selves in an impressive week one win and since then have gone just 1-4. Colin Kaepernick's inability to keep defenses on their toes has been one huge issue, while his struggles with turnovers have helped contribute to an avalanche of poor play across the team. The 49ers have been an erratic mess on offense but used to be able to mask their lethargic offensive woes behind an elite defense. That's no longer the case, as San Francisco is failing to generate anything close to a pass rush and also ranks 31st in total yards allowed. They're a far cry from the team they were just two years ago and there's a very good chance they get exposed more than ever on TNF.
Seahawks Preview (-6.5)
Seattle is the understandable favorite heading into this game despite looking very shaky across the board at times in 2015. Their biggest issues have stemmed from an off-season trade that sent stud center Max Unger to the Saints for star tight end Jimmy Graham. Graham's impact in the passing game has been mediocre and sporadic, while Unger's absence at least initially left a gaping hole on the o-line. That only contributed to the overall shakiness of Seattle's offensive line, too, as the Seahawks have struggled at times to run the ball and even more with pass protection. A quick look at last week shows the most glaring issue, as Russell Wilson was sacked four times (26 times on the year). Luckily Seattle faces a Niners defense that has just 9 sacks on the year. With the league's second best rushing offense and a defense that still ranks inside the top-five, Seattle should still have the goods to take care of business against their bitter rivals.
Seahawks' O-line has controlled line of scrimmage on 42.9% of dropbacks (worst in NFL). 49ers' O-line: 44.4% of dropbacks (2nd-worst).

— ESPN Stats & Info (@ESPNStatsInfo) October 22, 2015
The Pick
Seattle winning is probably the easy call based off of recent history and sheer talent. Covering, of course, is a whole different story. Doing so on the road could be somewhat difficult, especially with the Niners 5-1 straight up against the Seahawks in their last six meetings at Levi's Stadium. Seattle holds a solid 10-4 mark against the spread following a road loss, but adding in their paltry 1-4-1 2015 against the spread record complicates things. Seattle just isn't themselves this year, either, while most of their battles with the Niners tend to be low-scoring and fairly close. The last three games were decided by six points or more with Seattle winning, but this one should be a little tighter.
The evidence does support the Niners beating the spread, but I still don't buy it. Kaepernick has regained his form against the Giants and Ravens, two of the absolute worst pass defense in the entire league. He simply won't find the same success against a Seahawks team he's routinely been embarrassed by. On the other side, Russell Wilson and co. aren't going up against a stout 49ers defense like they have in the past. Wilson will have time to throw and it's possible Marshawn Lynch finally finds his Beast Mode setting and keeps the gear in place.
I like Seattle to win and cover in week seven.