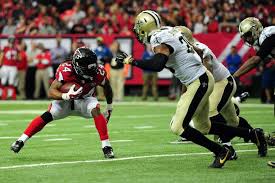 Our 2016 NFL Monday Night Football free pick has the Atlanta Falcons at the New Orleans Saints. It's been an interesting first three weeks in the NFL as team after team has won with relatively inexperienced or ineffective quarterbacks at the helm. Why have teams such as the Baltimore Ravens, Philadelphia Eagles, New England Patriots, Denver Broncos and others gone undefeated through week three? It comes down to one word, "defense." Defenses have often been the difference for teams with fair to midland offenses.
It should be noted that in this NFC South divisional matchup that neither the Falcons nor the Saints are 2-0 going into this Monday Night game. Atlanta is 1-1 and New Orleans is 0-2. Of the two teams, it's the Saints that have the better defense. Which is shocking, as they are noted for having very little to offer when it comes to D.
Atlanta Offense vs. Saints D
The Falcons come to this game having lost in week one 31-24 to the Tampa Bay Buccaneers. They then rebounded the following week beating the Raiders 35-28. They have scored a total of 59 points and allowed a total of 59 points, making their PF/PA 0. It's interesting to note that Atlanta QB Matt Ryan (72.6 COMP%, 5 TDs, 1 INT, 4 Sacks) is off to a solid start just when everyone was in doubt of his ability to be an effective quarterback. Julio Jones (9 REC, 172 YDs, 19.1 AVG, 2 TDs) is one of a group of effective receivers. RBs Devonta Freeman (28 ATT, 113 YDs, 4.0 AVG, 0 TDs) and Tevin Coleman (20 ATT 68 YDs, 3.4 AVG, 1 TD) have been quite effective.
The Saint defense has notched a few more stats than the Falcons. They have two sacks, nine tackles for a loss, eight passes for a loss, and three forced fumbles all of which they've recovered. The D does not yet have an INT. LB Craig Robertson leads the team with 18 solo tackles, 24 total takedowns, and four TFL. Another top performer, safety Kenny Vaccaro, is a question mark for tonight.
New Orleans Offense vs. Falcons D
The New Orleans Saints started the 2016 season by losing to the Oakland Raiders 35-34 and then to the New York Giants 16-13, proving they are capable of being beaten in games where point accumulate quickly as well as those where the offense is barely noticeable. Like his counterpart Ryan, Drew Brees (66.3 COMP%, 5 TDs, 0 INT, 3 Sacks) has been fairly effective. The bad news for Brees is that one of his favorite receivers, Willie Snead (14 REC, 226 YDs, 16.1 AVG, 2 TDs), will probably not play tonight due to an injury. However, WR Brandin Cooks (13 REC, 211 YDs, 16.2 AVG, 2 TDs) will play. RB Mark Ingram (21 ATT, 81 YDs, 4.2 AVG, 0 TDS) has some solid running chops.
The Falcon defense comes to this game with one sack, one interception, five passes defended, two tackles for a loss, and no forced fumbles. Those are fairly thin stats. LB Deion Jones comes to this game withb16 tackles total, while LB Sean Weatherspoon has made 13 tackles. Although they have performed decently against the pass, the Falcon D has not done well in trying to stop the run.
Our 2016 NFL Monday Night Football Free Pick
Our 2016 NFL Monday Night Football free pick sees the Saint defense stepping up tonight and the offense taking advantage of the lack of an Atlanta run defense. We like the Saints at -2.5 in a game where New Orleans scores most of the points.
2016 NFL Monday Night Football Free Pick Best Bet: Saints