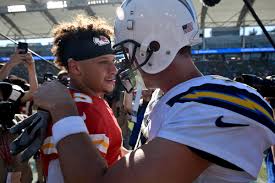 Thursday night football has given us another elite matchup when the 10-3 LA Chargers travel to meet the 11-2 Kansas City Chiefs. Arrowhead Stadium is one of the best home field advantages in football but KC's stadium could steal the show in the NFL week 15 TNF free pick. Game time temps are going to be near freezing and the Chiefs are inducting former great Tony Gonzalez into the ring of honor at halftime of this primetime affair. Arrowhead might go off the Richter Scale tonight.
Do the Chargers Enjoy Being Overlooked?
LA has had arguably one of the most under-the-radar seasons that a 10-3 team has ever experienced. Since week 3 the Chargers have won every game except one, a 22-23 loss to Denver. Los Angeles did drop a 28-38 contest to Kansas City in week 1, but the Chargers started the season 1-2 and this is a completely different team now. Los Angeles is top 10 in the NFL on both offense and defense. For as much credit as the Chargers offense gets, their defense has held opponents to 21 points or less in 7 of 9 games.
The Chargers offense can get to Kansas City in the NFL week 15 TNF free pick. Melvin Gordon is probably going to be out – or limited – Thursday (as is Austin Ekeler) so the LA backfield is pretty thin. Philip Rivers can make up for that though as he's thrown 8TD to just 2INT the past 4 weeks. The Chiefs allowed 400+ yards and 4TD to Jared Goff a couple weeks ago and the crafty Rivers should be able to exploit the NFL's 32nd ranked pass defense. Tonight's O/U is set at 54 which seems like it will soar on the high side.
Kansas City Just Needs to Get an Early Lead
The Chiefs can put this game away early if they get a lead and let their crowd foil the LA passing game. The NFL's #1 ranked offense is going to be a bit thin though as Tyreek Hill is hobbled by a foot injury and Spencer Ware is doubtful with hamstring issues. When you factor in Kareem Hunt's absence that is 250 yards of offense from KC's week 1 win over LA that will be missing tonight. Of course Patrick Mahomes and Travis Kelce still have a little something to say about how effective the Chiefs offense will be on Thursday. Mahomes looks to cement his MVP candidacy with a big primetime showing and Kelce has 29 catches in his last three games.
Rivers threw for 424 against these Chiefs in the season opener but it still wasn't enough for the Chargers who have now lost 9 straight to KC. The Kansas City defense hopes to keep that trend going but they've had their issues lately. The Chiefs needed OT to beat Baltimore at Arrowhead last week as the Ravens ran for nearly 200 years. Derek Carr was 29/38 for 285 and 3TD the week prior as Oakland fell just 33-40 to the Chiefs. Then there was the 51-54 Kansas City loss to the Rams in which the Chiefs defense game up 455 yards of offense.
NFL Week 15 TNF Free Pick Betting
The 'hook' looms large in tonight's game with KC favored by -3.5. It's going to be a playoff-like atmosphere in Arrowhead which is going to be tough for LA to overcome as is gameplanning for the Chiefs offense on a short week. The Chiefs are a bit banged up, but it won't matter.
NFL Free Pick: Kansas City Chiefs -3.5