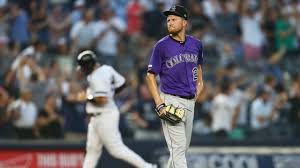 This New York Yankees vs Colorado Rockies runline pick offers good betting value. Our New York Yankees vs Colorado Rockies runline pick has the Yanks hosting the Rockies in the Bronx for the third game of this series at 1:05 PM on Sunday, July 21, 2019. Saturday saw New York put up 11 runs to extend their current win streak to five games. Colorado's loss was their sixth in a row, and it dropped them into last place in the NL West. In this game, we see a good runline betting opportunity based on the pitching matchup and the Yankees' recent offensive dominance.
New York Yankees vs Colorado Rockies Runline Pick – Pitching
For New York, James Paxton will look to build off of his three solid starts in July. The southpaw struggled somewhat in June but has allowed just five runs over 18.0 innings this month. His last two starts have come against a strong Tampa Bay squad. In both performances, he allowed just two runs in six innings pitched. Paxton is looking like the pitcher the Yankees thought they were getting when they traded for him in November. While his ERA on the season sits at 3.94, it has dipped to 2.50 in July. He struck out 21 batters over his last three starts and will rely on his 96mph four-seamer to fan a Colorado lineup that for this month has the third worst on base percentage.
Paxton will face off against Colorado's German Marquez who will be making his 22nd start of the season. Marquez has struggled and currently holds a 5.12 ERA on the year. His last start was especially abysmal. Marquez was yanked before the third inning. He made it through two and a third while allowing 11 runs. This brought his ERA in July to 11.66. This is a difficult game for him to bounce back in as he faces the AL's top club. In order to do so, Marquez will have to be able to deliver his best stuff and go for at least five innings. That's a mighty tall challenge.
NY Yankees and Colorado – Rox' Struggles Against Paxton
The Rockies lineup has struggled against Paxton in their prior career meetings. Out of the 45 at bats Colorado's players have against Paxton, only four resulted in hits. The starter has had much success against the Rockies top players as well. Nolan Arendao is 0-6 against Paxton and has struggled recently despite homering Saturday. Arenado has six hits in his last 24 at bats, but in that span, has a slugging percentage of just .375. Charlie Blackmon and Ian Desmond are a combined 2-20 against Paxton with each owning one hit against the lefty. Blackmon has especially struggled recently with a .154 average in the past week.
Yanks Dominate Offensively
Yankees' players have a total of two at bats against German Marquez, both courtesy of Edwin Encarnacion. He has gone 0-2 in those at bats, but like much of New York's roster has been streaking as of late. The Yankees have put up 38 runs over their last five games. Encarnacion has driven in eight of those runs including seven in the first two games of this series. Apart from Encarnacion, New York has gotten recent run contributions from Aaron Judge and Gio Urshela. Judge has 10 hits and five RBI in his last 24 at bats. The Slugger has two home runs in his last seven games as well. Urshela has a .316 average in his last six games and has driven in six runs.
New York Yankees vs Colorado Rockies Runline: Summary
This New York Yankees vs Colorado Rockies runline pick appears very lopsided in the Yankees favor. They have gotten a lot of run support recently and have a clear advantage in the pitching matchup. Paxton has hit his stride and has had success against Colorado's batters in the past. Marquez is coming off his worst start of the year. In this contest, we see The Yankees extending their win streak to six games with a very good chance to win handily. We have another great pick for Sunday, July 21 as the Diamondbacks host the Brewers.
New York Yankees vs Colorado Rockies Runline: Prediction
New York Yankees Runline -1.5 (+100)