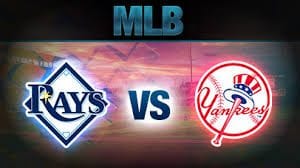 The 2017 MLB season opens with the New York Yankees at Tampa Bay Rays for a 1:00 p.m. game at Tropicana Field. The Yankees will start ace Masahiro Tanaka (2016 Record 14-4 W/L, 3.07 ERA) and the Rays will put Chris Archer (2016 Record 9-19 W/L, 4.02 ERA) on the mound. The over/under is 6.5 and the moneyline has both teams at -105. Here our New York Yankees play Tampa Bay Rays free pick.
Pitching Matchup
The pitching matchup goes to the Yankees in this one. But it's closer than one might think. Tanaka is especially reliable and offers consistency. However, there's always the fear that the small tear in his UCL that was discovered a few years ago may get worse. Still, he is the best pitcher on the Yankee roster. He has great control and a splitter that is very tough to hit.
There's good news concerning Archer, as he's had a very good spring. He looks to be much more competitive as the season starts than he was at the beginning of the 2016 season. In Tuesday's Grapefruit League loss to the Twins, he struck out four and allowed one hit and a walk. In that game, he notched over three scoreless innings. This spring, he's allowed justthree earned runs in 13.2 innings while strking out 17.
Hitting
Yankees
Greg Bird gets the start at first as Mark Teixeira is gone and Chase Headley (.253 BA, 14 HR, 51 RBI) replaces third baseman Alex Rodriguez. Bird is projected to slug 30 homers. At short, Didi Gregorius (.276 BA, 20 HR, 70 RBI), a solid RBI producer, had a good season but he's out until May due to injury. Ronald Torreyes, a third-year player with a .261 BA gets the start. and proved to be a decent fielder. At second, Starlin Castro (.270 BA, 21 HR, 70 RBI), also one of best NY RBI men, offers decent offensive tools but weak fielding. Catcher Gary Sanchez (.299 BA, 20 HR, 42 RBI) starts behind the plate.
The leadoff hitter had a fine rookie season in 2016. Veteran Matt Holliday, a .303 lifetime hitter, will DH, while Brett Gardner (.261 BA, 7 HR, 41 RBI), the 2016 Gold Glove leftfielder, starts as does centerfielder Jacoby Ellsbury (.263 BA, 9 HR, 56 RBI). Second-year player Aaron Judge, a light hitter, starts in right.
Rays
This is a team that was 28th in the league in batting. Catcher Derek Norris leads off. He's fairly unknown. For the Rays, Evan Longoria (.273 BA, 37 HR, 98 RBI), who's dealing with a neck issue, will play third and bat fourth. He's probably their best hitter. Second baseman Brad Miller (.243 BA, 30 HR, 81 RBI), batting third, offers power, but he's struggled this spring.
The middle infield is a question mark, and that's not good for a team that has struggled in getting on base and scoring runs. The outfield is back from last season. They include centerfielder Kevin Kiermaier (.246 BA, 12 HR, 37 RBI), right fielder Steven Souza Jr. (.247 BA, 17 HR, 49 RBI) and in left Corey Dickerson (.245 BA, 24 HR, 70 RBI). Dickerson has some power, but none hit for average. Mallex Smith, a young and fairly weak hitter, will DH.
New York Yankees Play Tampa Bay Rays Free Pick
Our New York Yankees play Tampa Bay Rays free pick likes the NY in this game with the moneyline and under 6.5 runs. The Yankees bring more to the mound and the plate. The game starts at 1:00 p.m. This is a three-game series.
New York Yankees Play Tampa Bay Rays Free Pick: New York At -105 and under 6.5