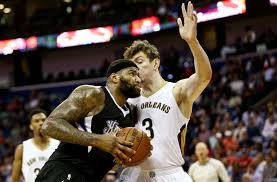 Two teams that are presently in the lower half of the NBA Western Conference meet tonight, Sunday, Feb. 12 at 9 p.m. ET. The New Orleans Pelicans (21-33 Overall, 7-18 Away) are at the Sacramento Kings (22-32 Overall, 11-15 Home). The Pelicans are three games away from the final playoff spot in the West while the Kings are two. Our New Orleans plays Sacramento NBA free pick has an over/under from 212.5 to 213.5 and a spread of either 2.5 or 3.0 with the Kings being favored.
The Pelicans have gone 4-6 for their past 10 games and are looking to notch a second straight win tonight. Prior to beating the Timberwolves on Feb. 10 by a score of 122-106, New Orleans has lost three of four. Losses included Detroit 118-98, Washington 105-91, and Utah 127-94. Their win in the four-game run was 111-106 on Feb. 6 against Phoenix.
The Kings have won two straight and are 5-5 for their last 10 games and have gone 3-2 for the team's past five. On Feb. 4, Sacramento had a big 109-106 OT victory against Golden State. They also beat Boston 108-92 and Atlanta 108-107. Losses were to Phoenix 105-103 and Chicago 112-107.
New Orleans Pelicans
For this game, New Orleans will be without two essential players and possibly four guys total. Scratches include PF Terrence Jones (11.5 PPG, 5.9 RPG, 47 FG%) and SG E'Twaun Moore (9,8 PPG, 46 FG%, 40 3PT%). Top scorer PF Anthony Davis (27.9 PPG, 12.1 RPG, 51 FG%) is also a find defender, averaging 1.30 SPG and 2.48 BPG. PG Jrue Holiday (16.2 PPG, 7.4 APG, 47 FG%) is a 39% three-point shooter. The backcourt is hampered by the fact that in addition to Moore SG Tyreke Evans (9.7 PPG, 40 FG%, 32 3PT%) is out. In the frontcourt, expect PF Dante Cunningham (6.0 PPG, 4.1 RPG, 44 FG%), a 37% three-point shooter, to see extra action.
Sacramento Kings
In the frontcourt, PF DeMarcus Cousins (27.8 PPG, 10.7 RPG, 45 FG%) and SF Rudy Gay (18.7 PPG, 6.3 RPG, PPG, 46 FG%) are a powerful one-two duo. At the same time, each offers a three-point shot that connects 37% of the time. PG Darren Collison (13.5 PPG, 4.0 APG, 48 FG%) hits 42% of his threes. Backup point guard Ty Lawson, who's averaging 9.0 PPG and 4.6 APG, is out. Look for shooting guards Aaron Afflalo and Garret Temple should both see a lot of action. Each is good for about eight points per game. There's depth upfront with Anthony Tolliver and Ben McLemore also averaging eight points per game.
New Orleans Plays Sacramento NBA Free Pick
The Pelicans come to this game compromised by three fairly serious scratches. The Kings have taken down some good teams as of late. Earlier in the season, Sacramento beat New Orleans 102-94. Our New Orleans plays Sacramento NBA free pick is the Kings at -2.5.
New Orleans Plays Sacramento NBA Free Pick: Sacramento at -2.5