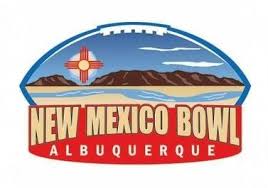 Our 2019 New Mexico Bowl pick has Central Michigan playing San Diego State. This New Mexico Bowl pick offers SDSU at -3.5 and the totals at 41.0. The game will be played on Saturday, December 21, 2019 at 2:00 pm ET in Albuquerque, New Mexico at Dreamstyle Stadium. The Central Michigan Chippewas (8-5) finished first in the Mid-American Conference West. The Chippewas played the Miami (OH) RedHawks for the MAC title. The RedHawks beat CMU 26-21.
This season, the San Diego State Aztecs (9-3) tied for first with Hawaii in the West Division of the Mountain West Conference. However, when it came to that one crucial matchup this season, SDSU could not quite turn the corner. Despite having equal 5-3 marks, the Rainbow Warriors took the top spot due to their 14-11 regular-season win over the Aztecs.
2019 New Mexico Bowl Pick – Regular Season
Central Michigan's season started with a 38-21 win over Albany that was followed by a 61-0 loss to #17 Wisconsin. Although the next week, CMU managed a convincing 45-24 victory over Akron, they then lost their next two games to Miami and Western Michigan. Over the final eight contests, the Chippewas went 6-2. As we observed, CMU earned the right to play in the MAC Championship game against Miami (OH) RedHawks. In that postseason contest, the RedHawks beat the Chippewas. Thus, they come into this bowl with their last game being a loss.
The Aztecs started their season with three straight wins. Their first loss was 23-17 to Utah State on September 21. Our 2019 New Mexico Bowl pick notes that after that defeat, San Diego State won four more in a row. Their second loss was 17-13 to Nevada. Over their final three games, the Aztecs went 2-1 with their one shortfall being, as noted earlier, a 14-11 defeat by Hawaii in what was the division-deciding game.
Central Michigan Chippewas vs. San Diego State Aztecs – Stats
The Chippewas look solid on offense, as they're averaging 31.9 PPG. However, they're allowing opponents 26.8 PPG. The Aztecs are scoring just 19.0 PPG. On the other hand, they do bring a very tough defense to the field as they are holding teams to 12.8 PPG.
CMU has an explosive offense that's averaging 445.6 YPG including 186.7 on the ground and 258.9 in the air. On defense, Central Michigan is giving up 351.5 YPG. Teams are averaging 236.1 air YPG and 115.1 ground YPG against them. Offensive yards for SDSU come in at 329.3 YPG. The Aztecs are averaging 195.6 YPG passing and 133.7 YPG rushing. On defense, San Diego State is holding opponents to just 72.3 running YPG. They're giving up merely 216.3 passing YPG. Total defensive yards for the Aztecs come to 288.7 YPG. That's sound D.
Central Michigan at San Diego State – Players
The Chippewas pass attack will have to deal with what is a stellar SDSU secondary. Their rushing game, which is quite fine, may also find it tough going against what is an exceptionally stingy run D. At the same time, the Aztec offense is not very potent. They must make the most of their opportunities on offense.
Central Michigan Chippewas
QB Quinten Dormady, who's passed for 2,148 yards this season, is completing 66.8% of his throws and has tossed 14 TD passes and six INTs. Dormady's been sacked 11 times. Five different Chippewas receivers have 33 or more catches and a total of 19 TD catches. WR Kalil Pimpleton leads the team with 79 receptions, 823 yards, and six TDs. RBs Jonathan Ward and Kobe Lewis are a very productive tandem. Ward has 174 rushes for 1,082 yards, and 15 scores. Lewis comes to the game with 177 runs for 977 yards and 11 TDs. On defense, linemen Sean Adesanya and Laquan Johnson have seven and six sacks respectively. LB Troy Brown, who tops the Chippewas with 71 solo tackles, has made three picks, while DB Ja'Quaun Jamison has two picks and six PD. DB Kyron McKinnie-Harper has caused two FF and defended 10 passes.
San Diego State Aztecs
Over the course of this season, QB Ryan Agnew has thrown 11 TD passes and five INTs while being sacked 18 times. His completion rate comes to 63.5%. Agnew has 2,175 passing yards to his credit. Our 2019 New Mexico Bowl pick finds that Kobe Smith is his favorite target. Smith has made 73 catches for 673 yards and four TDs. RB Juan Washington, who's rushed for 500 yards and two scores on 150 attempts, is the team's primary running back. On defense, linemen Cameron Thomas and Keshawn Banks each have 4.5 sacks. Corner Luq Barcoo is a football magnet. He's grabbed eight INTs and defended 16 passes. Safety Tariq Thompson's snagged three picks while defending eight passes. Also, corner Darren Hall has 16 PD and one INT.
Five Keys to the Game
In creating this 2019 New Mexico Bowl pick, we note the following keys to this game:
Aztec defense could control play
Chippewas rush attack is tough to stop
SDSU offense possesses few tools
CMU receiving unit is deep
Chippewas O-line must come through
Our 2019 New Mexico Bowl Pick
In some ways, our 2019 New Mexico Bowl pick likes the Chippewas in this battle. We think their rush attack will eventually push through the Aztec D. At the same time, SDSU's secondary could create scoring opportunities. We do expect CMU's defense to be able to control the Aztec attack. Thus, we see a low-scoring contest. We're taking CMU at +3.5 and the under at 41.0.
We've got more picks today, including the only FCS bowl, the Celebration Bowl with the Alcorn State Braves and North Carolina A&T Aggies.
Makers Wanted New Mexico Bowl Pick – Summary
Central Michigan Chippewas at +3.5 and under 41.0