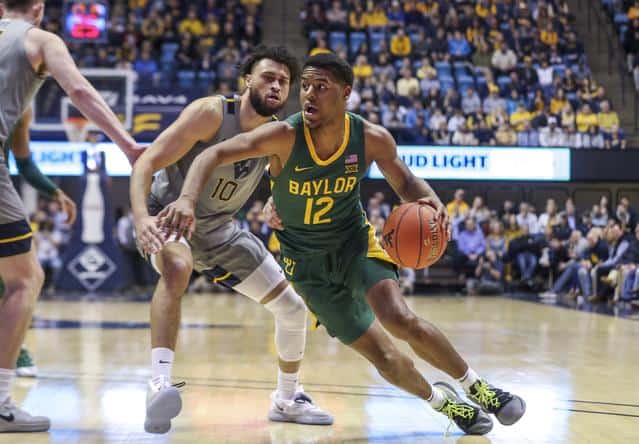 Tuesday's college hoops slate is March Madness-like, with one of the best games on the slate being the March 2nd Baylor at West Virginia matchup. The #3 ranked Bears are in search of a bounce back, losing 58-71 at Kansas on Saturday as -4.5 favorites. That loss knocked BU from the #2 spot in the nation that they held for months.
WVU is climbing the other way, winning six of their last seven. Baylor suffered their first loss of the year last time out (18-1), but are also working their way back from a three week COVID pause. The Bears are, what seems to be, a lofty -4.5 favorite on the road on Tuesday – but the Mountaineers have covered the number in six of their last seven overall.
Baylor Shaking Off the Rust
There's no denying Scott Drew's team is still one of the best in the country, but BU has been tested the last week. It's a weird season during the pandemic, and Baylor has had to shake off a 3-week break to barely beat Iowa State 77-72 (as -24 home favorites) and then the loss in Lawrence.
The big question heading into the March 2nd Baylor at West Virginia matchup is if the Bears have shaken off the rust or are still in a rut? BU struggled against a 2-18 Cyclones squad, and then suffered the 13-point loss at Kansas. Eventually things are going to get right for Baylor though, and they still boast the #1 offense and #2 defense in the Big 12.
One of the big problems in the loss at Kansas was that Jared Butler had just 5 points. Baylor also shot just 35% from the floor, down from their 44% shooting in the struggle vs. the Cyclones. BU has now been back to a normal routine for a week now, and West Virginia is just 7th in the conference in defense. Kansas is 3rd, which explains some of the struggles this weekend.
West Virginia on the Climb
The Mountaineers should be well rested coming into Tuesday's matchup. They had some tough battles in a February 20th 84-82 win at Texas and a 74-66 win at TCU on February 23rd. WVU coasted to a 65-43 victory over Kansas State on Saturday as -15.5 favorites.
West Virginia is still only 7-3 at home on the year, but those defeats were by 1 point in OT to #16 Oklahoma, by 5 points to a decent Florida squad, and by 2 points to #15 Texas. All good teams, but so is Baylor (under normal circumstances).
The big question is why West Virginia is such a large underdog on Tuesday, especially in the awkward early start (5:00 PM ET, ESPN) at home. Are oddsmakers expecting Baylor to get back to form with two games under their belt after the long layoff? Public betting is split right down the middle.
Free March 2nd Baylor at West Virginia Pick
Is Baylor back? Oddsmakers seem to think so by making them favorites on the road vs. a top 6 team. The easy play would be to take West Virginia and the points, because they could easily hand the Bears their second straight loss. That of course is signaling a 7-8 point Baylor win.
Baylor 79 – West Virginia 71
Free Pick: Baylor -4.5