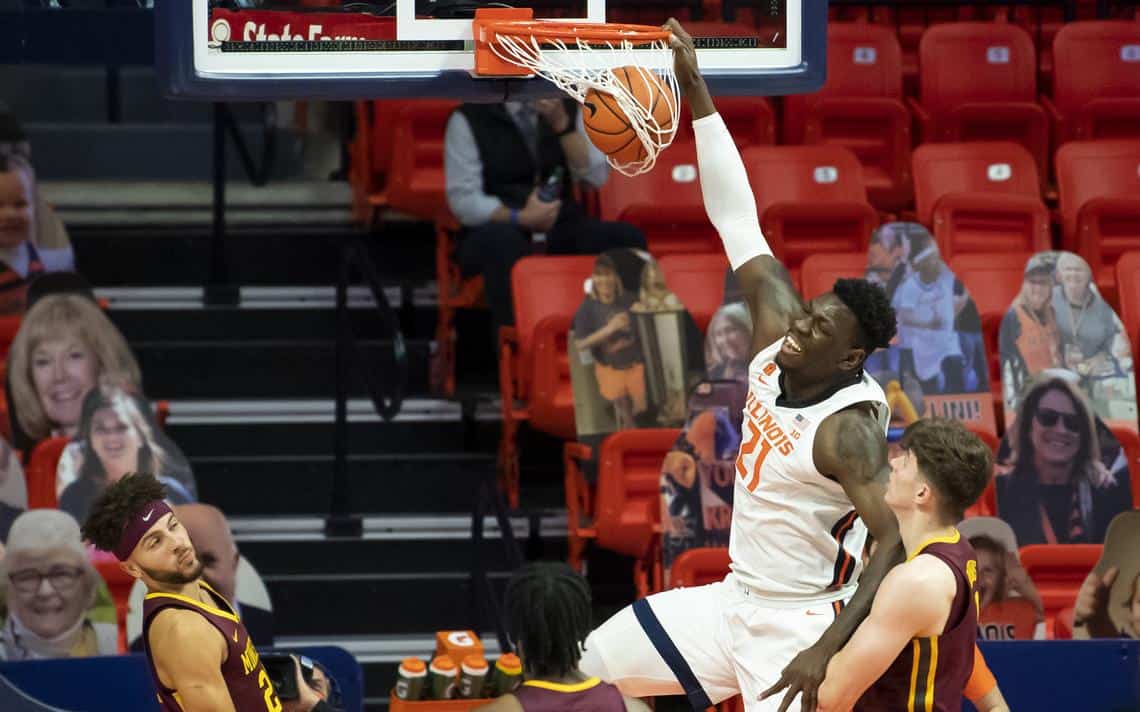 The February 20th Illinois at Minnesota matchup is an interesting one. You'd think the #5 Fighting Illini would dominate, winners of six straight and posting a very good 5-2 record on the road this season. Minnesota is just a +4 underdog though, down from a +5.5 open.
Are the Golden Gophers just that good on their own court? Richard Pitino's squad has boasted a 13-1 record at Williams Arena, a lot of that going through the tough Big Ten gauntlet. #3 Michigan has fallen in the Twin Cities this year as has #11 Iowa. Does the same fate await the Illini?
Illinois Doing a Lot of Things Right
Brad Underwood's team giving just 4 points looks pretty good heading into the February 20th Illinois at Minnesota pick. You'd assume that's what everybody is thinking though as Illinois has won six in a row plowing through the tough Big 10 schedule. Just 54% of the betting public is on the Illini though, and the spread has actually dropped 1.5 points.
Even though Saturday afternoon's tilt has trap written all over it for Illini backers, there's worse combos to wager on than the duo of Ayo Dosunmu and Kofi Cockburn. Dosunmu had just 13 in the win over Northwestern on Tuesday, but went for 30+ in the win over Nebraska and had a triple double in the victory over Wisconsin over the last three games.
Then there's Cockburn, who has a double-double in 10 of the last 11 games. The 7'0, 285 pound Cockburn is a load, and had 33 points and 13 rebounds vs. the Gophers in a 92-65 Illinois win in Champaign on December 15th as -9 point favorites. Expect more of the same on Saturday afternoon.
Minnesota Ready to Avenge 27 Point Loss
It's not looking like a great matchup for the Golden Gophers, as they gave up a 90 burger to Illinois when the teams met in December. That was in Champaign though, and Minnesota is a different animal at Williams Arena this season, their only loss being a 49-63 defeat to Maryland as -5.5 favorites.
The Terrapins showed that Minnesota can lose at home, but the Golden Gophers have won consecutive games on their own court in the series with Illinois. Minnesota has lost by double digits the last two games though, 59-72 at Maryland (+3) and 72-82 at Indiana (+7). Gabe Kalscheur (9.2 ppg) out with a hand injury coincides very well with Minnesota's struggles.
Of course there is the issue of how Minnesota goes about stopping Cockburn. 33 points and 13 rebounds for the Illini big man in the first meeting is just too much, and the fact that he went to the FT line 15 times means Minnesota can't match up. You'd think that 7-footer Liam Robbins could provide some resistance vs. Cockburn, but he's also giving up 50 pounds in the matchup.
Free February 20th Illinois at Minnesota Pick
The only reason Illinois is giving 4 points here is because of Minnesota's great record at home. The Fighting Illini should transcend this matchup however, and although this game seems like a trap the Illini seem like they're about to go on a run. Cockburn is dominant, and Dosunmu is an NBA caliber player.
Illinois 79 – Minnesota 70
Free Pick: Illinois -4