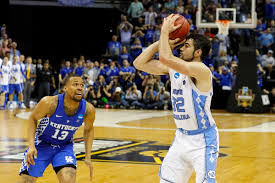 It's a noon tipoff between Atlantic Coast Conference rivals as the NC State Wolfpack (14-7 Overall, 4-4 ACC) visits the #10 North Carolina Tar Heels (16-5 Overall, 5-3 ACC) at noon today. The two teams will play at the Dean E. Smith Center in Chapel Hill, North Carolina. NC State is seventh in the ACC. They're four games away from the first-place Virginia Cavaliers. North Carolina sits in fifth place in the conference, three games out of first and tied with the Clemson Tigers. Our NC State plays North Carolina 2018 ACC basketball pick has the Tar Heels at either -12.5 and the over/under at between 156 and 158.
Recent History
Over their past five games, NC State has alternated between wins and losses going 3-2. They beat #19 Clemson 78-77 on Jan. 11 and then lost to #3 Virginia 68-51 on Jan. 14. That was followed by a 72-63 win versus Wake Forrest, an 86-81 loss to #25 Miami, and a 72-68 win on Jan. 24 against Pittsburgh. It should be noted that on Jan. the Wolfpack beat #2 Duke 96-85.
The Tar Heels are coming off a very bad 80-69 loss to Virginia Tech on Jan. 22. Prior to that loss, on Jan. 3 and Jan. 6, they lost to #24 Florida State (81-80) and #8 Virginia (64-49) and then ran off a string of four wins, which included an 87-79 beating of #20 Clemson on Jan. 16.
Matchup
In general stats, these two teams are close, as SC State is averaging 80.4 PPG and UNC 82.0 PPG and the Wolfpack are holding teams to 72.5 PPG and the Tar Heels 71.7 PPG. NC State's field goal percentage is .458, while North Carolina's is .468. The Tar Heels are about +6 on rebounds and +2 on assists. However, the Pack is +3 on steals. A major factor could the threes, as the Tar Heels dominate in that area 37% to 32%.
Players to Watch
For the Wolfpack, seven-foot, sophomore center Omer Yurtseven (13.7 PPG, 6.6 RPG, 1.8 BPG) is a tough guy to shut down. He's hitting 62% from the field and 54% from beyond the arc. Look for major contributions from senior guard Allerik Freeman and junior guard Torin Dorn. Both are good for 14 PPG. Dorn is grabbing seven rebounds per game. Freshman guard Braxton Beverly is a fine playmaker, averaging 4.2 APG and 9.8 PPG.
Two big-time players anchor the Tar Heel squad, junior forward Luke Maye and senior guard Joel Berry II. Maye leads the Tar Heels in points per game with 18.0, rebounds per game with 10.4 and shooting percentage with a mark of 52%. He's also good on 49% of his threes. Berry is averaging 17.6 PPG. Senior forward Theo Pinson is dishing off 4.5 APG.
NC State Plays North Carolina 2018 ACC Basketball Pick
The Wolfpack are a very fine basketball team and should give North Carolina a good battle. The spread seems a big large here. For that reaspn, our NC State plays North Carolina 2018 ACC basketball pick is NC State at +12.5. We like the over at 156.0
Summary Wolfpack at Tar Heels Picks- NC State at +12.5and over 156.0