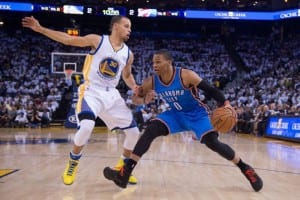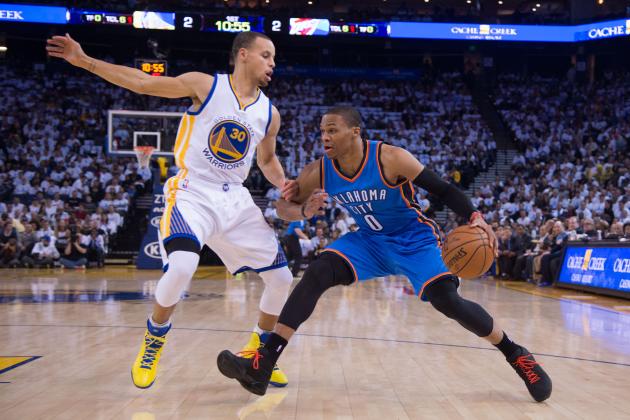 The unstoppable force that is the Golden State Warriors will clash with the Oklahoma City Thunder on Saturday night, perhaps finally giving NBA fans the "game of the year" that a prior Warriors/Spurs battle was supposed to. Kevin Durant has suggested as much, recently stating the Thunder weren't exactly "light years" behind the defending champs. That's hard to argue, but OKC may have their work cut out for them to be the first team all year to hand the Warriors a home loss at Oracle Arena.
Matchup History
The Thunder and Warriors have a bit of a history, meeting in the playoffs 10 times (splitting the games, 5-5) and in the regular season 236 times (Thunder lead, 135-101). It's been all Warriors lately, as they won three of four regular season battles last season and have won four of the last five meetings at Oracle Arena. OKC is not without their success against Golden State, of course, having taken the last meeting in a crazy 127-115 shootout at Chesapeake Energy Arena, as well as 11 of the last 17 games. The Warriors have the recent edge and have been extremely dominant this year, however, so they naturally enter as the favorites tonight.
Thunder Preview (+8)
OKC surely have not been bad this year, going a strong 38-13, good for third in the NBA. They probably can't catch the team they're playing tonight, but a win in Oracle Arena would push them one step closer to 40 wins and would give the notion that they are legit title contenders a significant boost. No one doubts the offensive prowess of Russell Westbrook and Kevin Durant, a dynamic duo that has spear-headed one of the more potent NBA offenses (109 points per game), but OKC's average defense is what could be called into question. The Thunder will be the underdogs in their Saturday clash with the Warriors, but riding a five game winning streak and winning 9 of their last 10 makes them Golden State's biggest threat yet.
Warriors Preview (-8)
Not much that is new can be said about Golden State, but in case you missed it the Warriors are a staggering 45-4, have won 41 straight games at home and are still very much alive in their bid for the NBA's best regular season record ever. Stephen Curry also is fresh off a 51-point outing in a road win over the Wizards and a healthy and clicking Warriors squad continues to look like the best team in the entire league. The crazy thing is it's really not even close, either.
The Pick
This might feel like a strong line at first glance, especially since the Thunder are no weaklings when you look at their offense, but let's consider that they've lost some really easy games this year (to the Nets just over a week ago) and have had their troubles on the road. Golden State also covers the spread fairly easily and did it again in their last game, covering a -11 spread against Washington with a 13-point win. All of that being said, the Thunder badly want to prove that they're a huge threat in the Western Conference. Unlike the Spurs when they met up with Golden State last time, they're not down a key player (Tim Duncan was out). That should help make for a highly competitive game and a ton of points.
I love the Over on the Total (231) and I'll take the Warriors straight up, but I do anticipate a great game with the Thunder beating the spread just slightly.