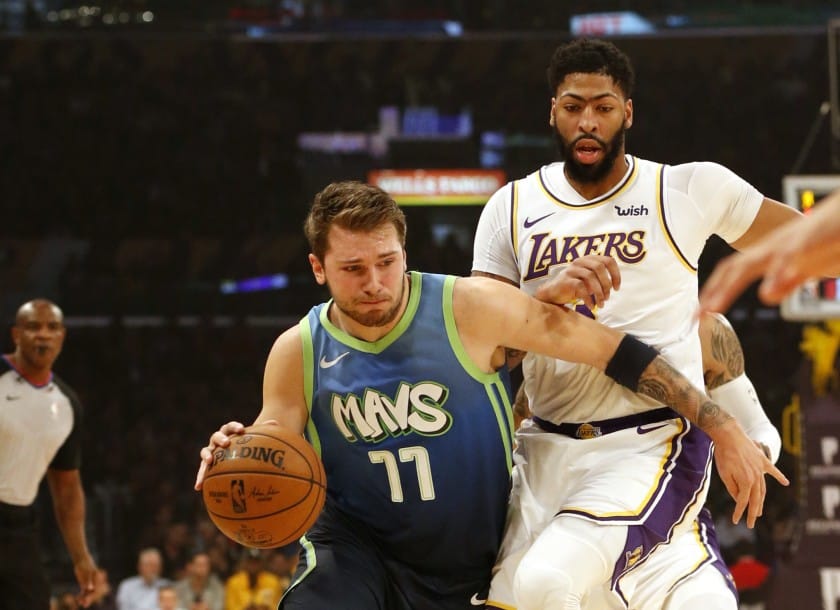 The April 22nd Lakers at Mavericks matchup features 5th seed in the West, Los Angeles visiting the current 7 seed Dallas. L.A has flip-flopped wins and losses in each of the last 12 games, which would bode considering they are coming off a 111-97 at home to the Jazz.
Dallas is a -3 point favorite despite losing four of their last six. Dallas is also playing on the short turnaround though, after a 127-117 win at home against Detroit on Wednesday as -10.5 favorites. The Mavs could be shorthanded in this one, right at the time Anthony Davis is coming back for the Lakers.
Davis Back in Action
Los Angeles is expected to get Anthony Davis back for the April 22nd Lakers at Mavericks matchup, although how productive will he be having not played since Valentine's Day? Davis had been averaging 22.5 points and 8.4 rebounds in 23 games, and although his minutes may be limited he's still a strong presence.
It will also be the first time that Davis and Andre Drummond will take the court together. Drummond had 27 points and 8 rebounds in a win over the Jazz last Saturday, and has double digit boards in four of the last six. Dallas is somewhat decent in defending the post though, ranking 13th vs. the C and 11th vs. the PF.
The Lakers still have the #2 defense in the NBA as well, allowing just 106.1 ppg. That number has been slightly higher recently though, as L.A has allowed 111+ in four of the last five. They also gave up 21 points to Joe Ingles and 22 to Jordan Clarkson in the Utah backcourt last time out.
Dallas On Short Turnaround
The Mavericks almost seem like a strange favorite in this matchup. They are not only playing on consecutive nights, but also haven't been faring that well as of late. In the last 10 days Dallas has an 18 point loss to the Sixers, fell by 8 to the Knicks and 14 to the Kings – all home games.
Luka Doncic had 30/10/9 in the win over the Pistons on Wednesday, but also played 33 minutes. Kristaps Porzingis also logged 33 minutes during his 19 point output vs. Detroit. Doncic has played both games in the last three back-to-backs for the Mavs, but Porzingis has sat in two of the last three.
Dallas is just 1/2 a game back from Portland for the 6 spot in the West. Moving into 6th would help the Mavericks avoid the play-in spot that they are currently in, possibly being eliminated from the postseason with two losses in that new format for 2021. This game obviously means something for Dallas.
Free April 22nd Lakers at Mavericks Pick
What to expect from Davis tonight? He's been out for 9 weeks so likely is a bit rusty, but is also another defensive and rebounding body against a Mavericks team on the back to back. Dallas is only a .500 team (14-14) at home this year, and have lost 4 of the last 5 on their own court. The Lakers getting points seems to be the way to play this one.
Lakers 118 – Mavericks 111
Pick: Lakers +3