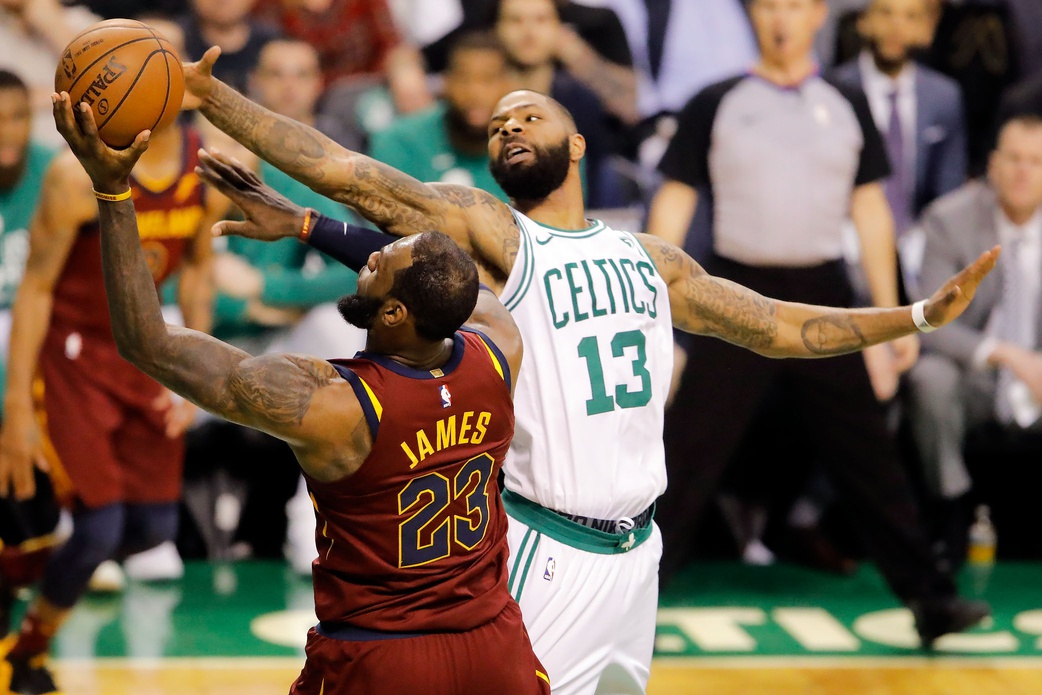 Things are looking pretty bleak for the Cleveland Cavaliers after an 83-108 loss in Game 1 of the Eastern Conference Finals on Sunday afternoon. Regardless, oddsmakers are still giving Lebron and Co.a fighting chance in the May 15th NBA playoffs free pick, setting the line for the Celtics at just a PK. This is a series that many fans are expecting to go 7 games. Do the teams flip flop wins to do that or is each squad going to take advantage of winning on their home court?
Cleveland Can't Shoot That Bad Again…Can They?
It's not hard to pinpoint where things went wrong for Cleveland in Game 1 as they shot just 31-86 (36%) from the field and an abysmal 4-26 (15.4%) from 3-point range. Now the big question heading into the May 15th NBA playoffs free pick is whether that shooting 'performance' was just an anomaly for the Cavs, or if it was the result of Celtics coach Brad Stevens defensive attack? Boston did have the #3 defense in the league during the regular season and in their last 9 postseason games they've held opponents to under 105 points 9 times.
Oddsmakers are expecting another strong defensive outing from Boston on Tuesday, opening the O/U at just 202.5 (since up to 204.5). It's easy to think that Cleveland bounces back better after at least seeing the Celtics game plan once. Lebron James was 0-5 from three point range in the series opener and finished with just 15 points and an amazing -32 +/-. Kyle Korver and Kevin Love combined to shoot 2-9 from three point range and JR Smith had just 4 points in 28 minutes. Cleveland should be better on Tuesday – but then again maybe their confidence is rocked?
Boston Looking Like Beasts of the East
Yes the Celtics have built their successful 2018 campaign on the heels of a strong defense but on Sunday their offense didn't look too shabby either. Jaylen Brown was one of 3 Boston players that put up 20+ points (23) as Marcus Morris (21) and Al Horford (20) had solid outings as well. It was Morris' job on Lebron James that has him looking like the early MVP of the series. We've seen James in these situations before however. Could the May 15th NBA playoffs free pick be another one of Lebron's 'ticked off' outings where he goes for 46/16/11?
The Celtics have had mixed results at the TD Garden against Cleveland this season. They won the first home matchup of the season 102-88 back on January 3rd. February 11th was a different story however as the Cavs posted a 121-99 beatdown in that game. Tuesday night is just about as unpredictable as those prior meetings.
May 15th NBA Playoffs Free Pick
It's a tough one to call on Tuesday as oddsmakers have set the game at a PK. The public is actually liking the Cavs to the tune of 55% and James has shown he can win these kinds of games nearly single-handedly. The NBA would love to see the series tied 1-1, but you can't count out just how crucial Stevens is on the sideline tonight. Boston is young and oblivious to the moment – which is a good thing.
Free Pick: Boston Celtics PK