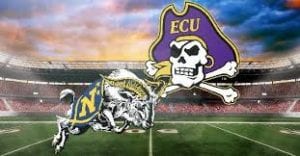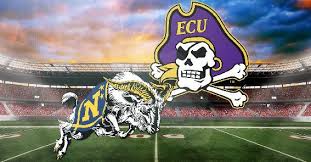 In a big American Athletic Conference matchup, the Navy Midshipmen (7-2 Overall, 5-1 AAC) play the East Carolina Pirates (3-7 Overall, 1-5 ACC). This Navy plays East Carolina free pick offers sports bettors a good opportunity. The Midshipmen are first in the ACC West and look to clinch the conference crown with a win on Saturday. Navy is first in the ACC West, while East Carolina sits in fourth place in the East. This game was supposed to be played about a month ago, but it was postponed due to flooding from Hurricane Matthew in October. What might have been another game in mid-season, is now one of huge proportions for Navy.
Navy has two losses. Their first one was a surprise defeat to Air Force 28-14. Their second loss occurred about a month later. It was 52-45 to the University of South Florida. USF is presently first in the AAC East. Navy's big wins include #6 Houston 46-40 and Notre Dame 28-27. Last week, they beat Tulsa 42-40. Over their last five games, the Midshipmen are 4-1.
East Carolina is 1-4 during their past five. Their one win during that time was against Connecticut. They trounced the Huskies 41-3. It may be important to note that Navy barely got by Connecticut 28-24. Pirates' losses include SMU 55-31, Tulsa 45-24. Prior to their win against the Huskies, ECU lost to Cincinnati 31-19 and USF 38-22.
Navy Midshipmen
Navy is scoring an average of 35.3 PPG. They are going up against a defense that allows an average of 33.0 PPG. About three-quarters of the Midshipmen's offense is generated on the ground. They team's good for an average of 441.9 yards of total offense with 309.1 yards occurring on the ground. The Pirates are allowing 200 yards of offense through the run.
Navy QB Will Worth (61.2 COMP%, 7 TDs, 3 INTs) is primarily a running quarterback who throws. He's the team's leading rusher with 215 carries and 915 yards. Worth, who is averaging 4.3 YPA, has notched 18 rushing touchdowns. Junior running back Chris High has five rushing TDs while averaging 6.7 YPA. Jamir Tillman (29 REC, 459 YDs, 15.8 AVG, 1 TD) is the team's leading pass catcher. If this team can run, then they can win.
East Carolina Pirates
ECU is scoring 28.3 PPG. Navy is allowing 29.9 PPG. The Pirate offense is focused on the pass. Of their 496.6 yards of offense per game, they generate 359.5 of it through the air. Navy defense is allowing opponents 260.6 passing yards per game.
Senior QB Philip Nelson (67.9 COMP%, 16 TDs, 8 INTs) has passed for over 2,600 yards. Zay Jones (139 REC, 10.6 AVG, 6 TDS) and Jimmy Williams (37 REC, 19.2 AVG, 6 TDs) are the team's leading receivers. Jones is this team's major threat, as he has 1,473 yards in catches.
Navy Plays East Carolina Free Pick
Our Navy plays East Carolina free pick offers some perplexing contradictions. Navy is the type of team that does just enough to win. They have been involved in one blowout all season and that was against Fordham in a non-conference game. At the same time, ECU has tended to be the type of team that gets beaten badly.
Still, ECU, which has a sound passing game, is playing a team with a weak pass D. At the same time, the explosive Navy rush attack may roll over ECU's rush defense, which during their last two games allowed more than 600 rushing yards.
Our Navy plays East Carolina free pick takes Navy at -9.0. The game will be played at ECU with kickoff at 4 p.m. on Saturday.
Navy Plays East Carolina Free Pick: Navy at -9.0