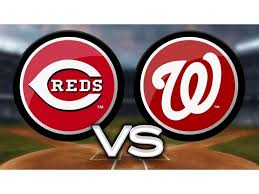 The first-place NL East Washington Nationals (55-36 Overall, 29-17 Away) finish up a four-game series against the last-place NL Central Cincinnati Reds (39-52 Overall, 23-23 Home) at 12:35 p.m. E.T. today. The Nats are looking to complete a four-game sweep of the Reds. The Nationals have won four straight and eight of their last 10. Cincinnati has lost three while going 4-6 for their past 10 games. Our Nationals play Reds 2017 MLB free pick has Washington at -143 and Cincinnati at +145.
Pitching
Stephen Strasburg (9-3, 3.43 ERA) has had seven career starts against the Reds and has averaged nine strikeouts per nine innings. However in those games, he is only 2-1 with a 5.00 ERA. At Nationals Park, Strasburg gave up five runs on eight hits over a total of five innings. That was on June 28 when he got a no-decision vs. Cincinnati. Also, in his last start on June 8, Strasberg, who has been dealing with a bad hip, pitched just three innings giving up six runs on seven hits. Three of those runs were earned. That was against Atlanta.
Right-hander Scott Feldman (7-6, 3.94 ERA) gets the start for the Reds. Feldman leads Cincinnati pitchers in just about all categories. He's been the Reds' most consistent starter. Over his last half-dozen starts, he is 3-2 with a 2.92 ERA. In that time, he's posted four quality starts. Feldman has also performed solidly against the Nats. In his career, he is 1-0 with a 2.50 ERA over three starts. In those games, he's notched 16 Ks and given up eight walks in 18 innings. On June 25, Feldman pitched seven innings against Washington, giving up two runs on seven hits over seven innings, winning 6-2.
Hitting
On offense, the Nats are impressive with a .279 BA, 135 homeruns and 188 doubles. Five players are batting over three hundred and four have posted 60 or more RBI and are in double digits in homers. Daniel Murphy tops the team in RBI (71) and batting average (.348), while Bryce Harper, who's hitting .327 with 68 RBI, leads the team in homers with 22. Murphy also tops the team in doubles with 30.
The Reds are not a bad ball club on offense. They are hitting .258 with 126 homeruns and 158 doubles. Scooter Gennett (.312 BA, 54 RBI, 16 HR) is hitting well, posting a .333 average this week. Jack Cozart (.310 BA, 35 RBI, 9 HR) and Joey Votto (.308 BA, 68 RBI, 26 HR) are both solid contributors. This group can do some damage when given the chance.
Nationals Play Reds 2017 MLB Free Pick
Cincinnati has won six of the last 11 against Washington, however, as noted, they have lost the last three. Still, Feldman has been exceptionally solid and Strasberg is dealing with injuries. The Nats have a great offense and that could be key. Despite the great Washington offense, our Nationals play Reds 2017 MLB free pick is the Reds at +145.
Nationals Play Reds 2017 MLB Free Pick: Reds at +145