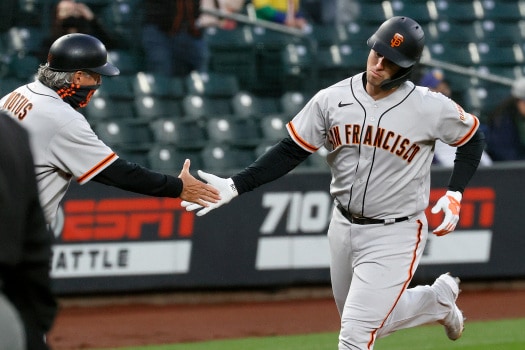 Will we see another offensive display in the April 3rd Giants at Mariners matchup? This marks the third game in the season opening series, with both teams notching a win so far. Seattle tallied the 8-7 win on Thursday, while SF evened up the series in a 6-3 win on Friday.
Of course the question begs to be asked, are these teams scoring runs due to their bats, or has this just been a horribly pitched series thus far? Oddsmakers are favoring the Giants at -115, but calling it a close one with Seattle at +105.
San Francisco Has Played Well So Far
The Giants could easily be 2-0 after their first two games of the season. They held a 6-1 lead in the bottom of the 8th only to give up six unearned. Pinch hitter Alex Dickerson did tie the game with a pinch hit HR in the 9th, only for the Mariners to draw three walks in the 10th to get the win.
San Francisco did bounce back in game two, getting 3 runs in the 7th inning en route to a 6-3 win. The Giants were +105 despite Jonny Cueto being on the mound, and he pitched into the 6th allowing three runs. The big boost for San Francisco on Friday was a couple more HRs from Buster Posey and Evan Longoria, who have both went deep in the first two games.
The first two games in this series have gone over the total of 8.5, but Giants pitcher Logan Webb looks like he has the capability to stop that – at least from the Seattle bats' perspective. The right-hander has a 5+ ERA in each of his two big league seasons, but was stellar this Spring, allowing 1 run in 17 innings.
Big Things For Mariners Bats?
Webb may have had a solid Spring Training, but 5 of the 7 Mariners players that have faced him have gotten a hit, and the team has a .500 OBP vs. the right hander in 18 plate appearances. That has to give Seattle some value at +105 even after plating just 3 runs on Friday.
The fact that Seattle is even 1-1 is kind of remarkable though, as they managed just 5 hits in Thursday's opener but still scored 8 runs. That's timely hitting, especially when the first four batters of the order got a hit in that game. Drawing 8 walks didn't hurt the Mariners cause either. That being said, the team still has just 11 hits in their first two games.
That's not the type of offensive history that the April 3rd Giants at Mariners starter, Chris Flexen would like to see. The 26-year-old pitched in Korea last season going 8-4 with a 3.01 ERA for Doosan. Flexen has an 8.07 ERA in 27 games with the Mets from 2017-19 however, and had a 5.06 ERA this spring.
Free April 3rd Giants at Mariners Pick
Nobody knows if Webb can carry over his success from Spring training, but there's plenty of questions about the Mariners starter as well. Ultimately the Giants have the much better offense here, and have a great price tag in what should be an easy win.
Giants 6 – Mariners 2
Free Pick: Giants -115