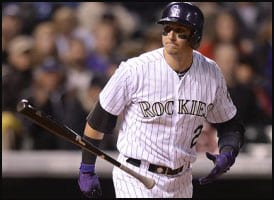 Overview
The San Francisco Giants are at Coors Field in Denver tonight where they take on division rivals the Colorado Rockies. The Giants haven't had much luck versus the Rockies of late losing 5 of the last 7 meetings overall and 4 straight played in Coors Field.
Head to Head Trends
Giants are 2-5 in the last 7 meetings.
Giants are 0-4 in the last 4 meetings in Colorado.
Colorado Rockies (-120)
The Colorado Rockies are last in the National League West a full 20 games out of 1st place. The Rockies actually had a good start to the season winning 7 of their first 9 games but they quickly went downhill after that. The Rockies have a pretty good offense at home but away from home they really struggle to score runs averaging about 2 runs less per game then at home. Their pitching is bad everywhere but as one would expect their numbers are worse at home allowing close to 6 runs per game.
On the hill for the Rockies today is Chad Bettis who is 6-4 with a 4.78 ERA on the season. Bettis has been fairly solid this season his number are a little inflated due to the thin Denver air but even so he's only had a few really bad outings and the rest were solid.
Colorado Rockies Trends
Rockies are 5-2 in their last 7 overall.
Rockies are 6-2 in Bettis' last 8 home starts.
San Francisco Giants (+110)
The San Francisco Giants are 2nd in the National League West 7.5 games back of the 1st place LA Dodgers and they're 8 games out of a wild card spot so I would have to say the Giants are pretty well done this season. The Giants weren't looking all that bad about a week ago but with the Giants losing their last 7 games in a row and the Dodgers winning 9 of their last 11 it's game over for the Giants.
Starting for the Giants today is the veteran Jake Peavy who is 4-6 with a 4.38 ERA on the season. Peavy hasn't been all that impressive this season he really just don't have what it takes to be an effective major league pitcher anymore and I don't see things going well for him tonight in this one.
San Francisco Giants Trends
Giants are 0-7 in their last 7 overall.
Giants are 2-8 in Peavys last 10 road starts.
Conclusion
I'm going with the Colorado Rockies over the Giants in this one. The Giants are in a tailspin right now losing their last 7 games and it looks like a few of the big bats for the Rockies are starting to heat up so I wouldn't doubt if the Rockies win big tonight.
Free Pick: Colorado Rockies -120