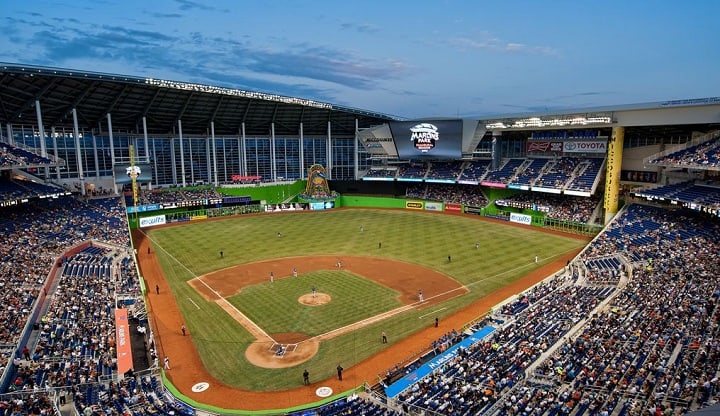 The line for the April 5th Cardinals at Marlins matchup is somewhat interesting, with Miami being a -115 favorite at home. Sure both teams have started off 1-2 through their opening weekend series', but this is supposed to be the vaunted St. Louis 'super offense' vs. a bunch of no names for the Marlins.
Monday's tilt will be interesting on previous performances alone. St. Louis couldn't get an out in a 12-1 loss to Cincinnati in a -110 toss up game. The Marlins bats got hot meanwhile, beating Tampa Bay 12-7 on Saturday to salvage one win over the weekend (Miami had Sunday off). Monday night's betting total is only 8, so which team turns things around?
A Night For Offenses?
The Cardinals bats have kind of fizzled since an 11-6 win over the Reds on Opening Day. Since then St. Louis has lost 9-6 to the Reds and 12-1 to finish out the series on Sunday. According to those scores, the bats aren't the real concern however, the fact that Cardinals pitching has allowed 21 runs the last two days is a real red(bird) flag.
Mike Shildt had to go to the bullpen after just 2.2 IP from starter Adam Wainwright on Saturday. Carlos Martinez did go 5.0 IP on Sunday, but also served up 4 ER over that span. Cardinals relievers also looked taxed after Wainwright's poor performance, with the bullpen allowing 8 ER in 3.0 IP on Sunday.
All of these factors put a lot of pressure on Daniel Ponce de Leon in the April 5th Cardinals at Marlins matchup. The right-hander has gotten worse in all three of his MLB seasons, posting an ERA of 2.73, 3.70, and 4.96 so far. Ponce de Leon had a 4.76 ERA this Spring, but also walked 13 batters in 17 innings.
Can Miami Keep the Hot Streak Going?
It's hard to gauge how good the Marlins are going to be this season following their 1-2 series to Tampa Bay to start the season. The Rays won a very good AL East last season, but Miami could have easily taken two out of three as Thursday's 1-0 TB win was anybody's game.
Marlins pitchers allowing just 1 run on Opening Day was impressive, but the staff has melted a bit the last two games. The Rays scored 13 total runs on Friday and Saturday, and Miami starter Elieser Hernandez went just 2.1 IP in the Marlins last outing. A day off Sunday looms huge ahead of the meeting with the Cardinals though, as it has given the bullpen a day to recover.
Miami starter Trevor Rogers has lights out stuff, but he had a 6.11 ERA in 7 starts a season ago. Rogers seems to have tightened things up in the offseason though, posting a 2.84 ERA in five Spring starts. Rogers actually led the Grapefruit League in strikeouts this year with 29.
Free April 5th Cardinals at Marlins Pick
I think you have to go Marlins and lay the -115 here. 55% of the betting public likes the Cardinals – which is a good thing. This is a perfect example of going against the devil you know (de Leon) compared to the one you don't (Rogers).
Marlins 7 – Cardinals 4
Free Pick: Marlins -115