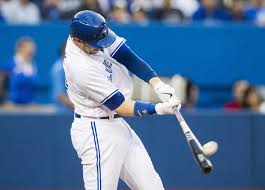 The Toronto Blue Jays play the New York Yankees in the final game of their latest three-game series. Our MLB Blue Jay/Yankee free pick is focused on an important game. This is the rubber match and the Blue Jays, who are 77-60 and hold a one game lead on the second place Boston Red Sox in the AL East, can really use the win. Overall, Toronto pitching has been good but their bats have been relatively silent.
The Yankees come into the game at 71-65. They are 5.5 games out of first and 4.5 out of the Wild Card. New York sits in fourth in the AL East. Their close proximity to a playoff spot is odd in that Yankee management moved a lot of key players just before the trade deadline. But, at times, the AL East seems to be a division where no one wants to take first place.
Pitching Matchup
Aaron Sanchez (13-2, 2.88 ERA) gets the start for the Blue Jays. Toronto was 3-1 when Sanchez pitched in August, and he was 2-1 with a 3.91 ERA. His only bad start, where he got no decision, was against Cleveland on August 20 when he went four innings and allowed five runs on four hits. His two wins were on either side of that game. In those wins, he pitched 13 innings total and gave up 10 hits and three runs. Sanchez won his June 1st start against the Yanks 7-0 and lost his August 12th game 3-2. If his teammates generate some runs in this game, he'll have a good chance of earning his 14th win.
Luis Cessa (4-0, 4.17 ERA) is a former middle reliever who has recently been given the chance to start. As a starter, he's 2-0 with one no decision. In his three starts, he's gone six innings in each. Over 18 innings, Cessa has given up six earned runs on 14 hits. He's allowed a total of four homeruns in that time with two coming in each of his last two games. Cessa has looked very strong, overall, with his weak spot being his tendency to give up the long ball. In 36.2 IP, he's allowed nine homers. In contrast, Sanchez has offered up 11 round trippers in 162.1 IP.
Offense is Key
Toronto bats need to wake up for the Blue Jays to win. Sanchez should be able to keep the team in the game. The question is can Toronto exploit Cessa's proclivity for pitching gopher balls? Team batting for both clubs is close in that the Blue jays post an average of .250 while the Yankees are hitting .252. The Jays are second in the league in homeruns with 197, while New York is 11th with 149. Toronto is also second in runs with 669. The Yankees are 11ith in that category, posting 577 runs.
When it comes to stopping offenses the Jays have done a good job at limiting runs. Toronto has allowed 570 total with 528 earned. Both of those numbers are good for second-best in the league. NY pitching has been decent, allowing 592 (5th ) runs with 561 earned (7th).
The question for Toronto is will Evan Longoria (31 HR), who is day-to-day with a hand injury, return for tonight's game? His homerun stroke would be much appreciated. At the same time, Brad Miller (26 HR) has been off his pace and not hitting. If he woke up tonight that could be a major factor.
MLB Blue Jay/Yankee Free Pick
Our MLB Blue Jay/Yankee free pick finds that Toronto holds the edge in hitting and in pitching. We expect that their bats will come alive enough to generate a lead for Sanchez. He and the bullpen should take cars of the rest. Take the Blue Jays in this rubber match, which will be played tonight, September 6 at 7:05 p.m. in Yankee Stadium. You can still find them at -158 to -160 at some books including Bovada and 5 Dimes. Both of those books may be accessed via Betting Brain. (Some books now list them from -170 to -190!)
MLB Blue Jay/Yankee Free Pick: Toronto with the moneyline at -160