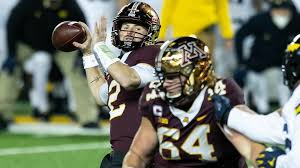 Our Minnesota vs. Maryland totals pick has the over/under at 61.0 (-105). That seems a little high for our taste. Especially because last week in their first game of the season, Maryland scored just three points against Northwestern. The Golden Gophers did better against #18 Michigan, as they scored a total of 24 points. But can they put on the scoreboard the 50-plus points they will need to top out against the over/under? The game, which is set to kickoff at 7:30 pm ET on Friday, October 30, 2020, will be played on the Terrapins' home turf, which is Capital One Field at Maryland Stadium in College Park Maryland.
Minnesota vs Maryland Totals Pick – Offenses & Defenses
The good news for the Golden Gophers is that they are playing a team that cannot stop the rush. Against Northwestern, the Maryland D allowed 537 yards with 325 of them coming via the running game. We expect Minnesota to run freely. However, we don't think they'll score more than four rushing TDs. The bulk of the Golden Gopher's offense should come from the ground attack, as they are weak when passing.
As we noted in our introduction, we find Maryland's offense to be very weak. Versus Northwestern, they had just 143 yards in passing and only 64 when rushing. We expect Minnesota to handle them the same way that Northwestern did. If that is the case, we don't expect the home-team Terrapins to put up more than seven points.
Golden Gophers vs Terrapins – Trends
Our Minnesota vs Maryland totals pick finds that over their last seven of eight games that the Gophers have been under. In six of seven contests where Minnesota played Big 10 teams, the total has gone under. Also, Maryland totals have gone over in six of their last seven games against Big 10 opponents.
Minnesota vs Maryland Totals Pick – Final Word
Our Minnesota vs Maryland totals pick looks comfortable as we are taking the under at 61.0 (-105). As noted, we expect little to no scoring from Maryland. Also, we think that the Minnesota ground attack will take up quite a bit of time, and that will help to keep the score down. Take the under on this one and make sure you also read our spread pick for Minnesota vs Maryland. It's a good one!
Minnesota Golden Gophers vs Maryland Terrapins Over/Under Summary
Totals Pick – Under 61.0