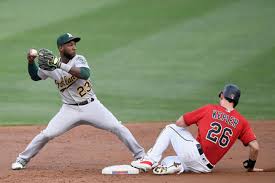 Our Minnesota Twins vs Oakland A's pick has the Twins' odds at -130. In terms of this Minnesota Twins vs Oakland A's pick, the money line odds for the A's are at +120. This second game of a four-game series will be played Friday, July 19, 2019 at 8:10pm ET. Minnesota and Oakland met last night. In that first of four meetings, the Twins won 6-2.
The Oakland A's (55-42 Overall, 24-22 Away) are second in the AL West. They're 5.5 games behind first-place Houston and tied for the second wild-card spot. The A's have won eight of their last 10 games. Last night marked their first loss since July 6. In their prior series with the Twins, Oakland won two-of-three. With their win last night, the Minnesota Twins (59-36 Overall, 29-17 Home) snapped the three-game losing streak. The Twins are first in the AL Central, four games ahead of second-place Cleveland.
Minnesota Twins vs Oakland A's Pick – Pitching
Righty Chris Bassett (6-4 W/L, 3.98 ERA, 1.22 WHIP) gets the nod for the A's. In June and July, Bassett has been off and on. He won his last start, which was on July 13 against the White Sox. In that game, he went six innings, allowing no runs on four hits while striking out six and walking two. In his following start, which was on July 6 versus Seattle, he pitched 4.1 innings giving up six runs on seven hits, including two homers. Over the last month-and-a-half, Bassett is 3-3-2.
For Minnesota, Jake Odorizzi (11-4 W/L, 3.06 ERA, 1.11 WHIP) will start. Since May 4, Odorizzi is 8-2-2. His last start was July 13 versus Cleveland. In that game, where he lasted 5.1 innings, Odorizzi allowed one run on three hits while string out two and walking two. In his prior start, which was on July 2 against the A's, he lasted just three innings. In that game, which Minnesota lost 8-6, Odorizzi allowed six runs on four hits. Two of those hits were homeruns. That was his first game since coming of the IL.
Twins vs A's Stats and Offense
The Twins come in hitting .271, while posting a .336 OBP and a .495 SLG%. Minnesota pitchers have allowed just 117 homers and opposing teams are batting.245 against them. Their RS/RA differential of +113 is second-best in the AL. Oakland is hitting .250 with 159 round trippers. They possess a run differential of +93. The team's OBP .322 is while their slugging percentage comes in at .450. Opponents are hitting .241 against them and have smacked 110 homers.
Our Minnesota Twins vs Oakland A's Pick
Our Minnesota Twins vs Oakland A's pick notes that one major question concerning this game is will both or either of the starters be on target tonight? Both are coming off of solid starts and both has very shaky outings prior to each of their last wins. It is a good sign that Odorizzi, who's having an All-Star season, was back on his game after his first disastrous start after coming off the IL. The Twins are a better offensive team, but they are dealing with some injuries. Oakland has a decent offense, but we think that the Twins will take tonight's game, as they have an edge on the mound and are better at the plate.
Summary Money Line Pick – Minnesota Twins vs Oakland A's
Minnesota Twins Money Line at -130