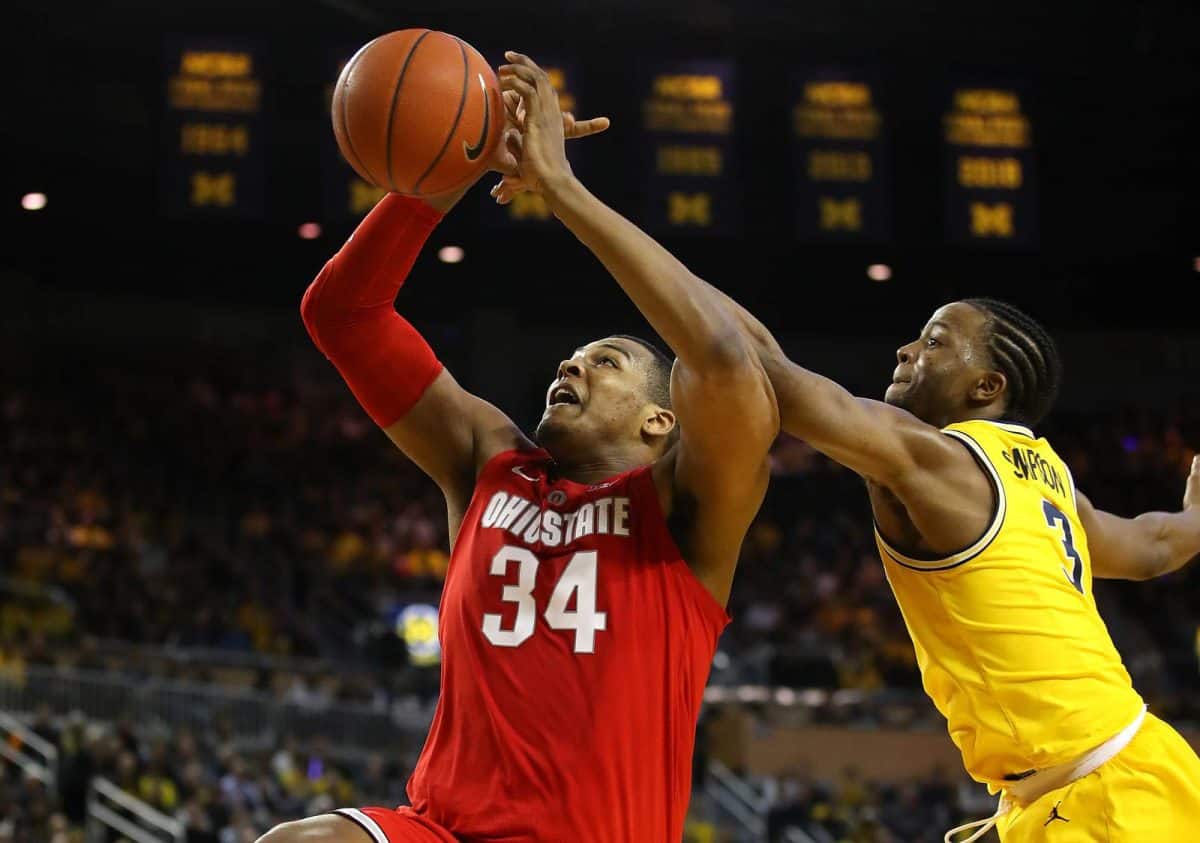 The #3 Michigan Wolverines (15-1, 10-1 Big Ten) are in for a top 5 showdown against the #4 Ohio State Buckeyes (18-4, 12-4 Big Ten) on Sunday afternoon. These top two Big Ten Conference teams are meeting for the only time this season. Sunday's tipoff is at 1 p.m. EST inside Value City Arena in Columbus, OH. Ohio State is a 1-point favorite over the Wolverines in the conference contest, according to oddsmakers.
What to Know – Michigan Wolverines
After a trio of postponed basketball games, Michigan has taken a pair of single-digit victories over conference opponents to stay atop the Big Ten standings. Michigan took down Wisconsin (67-59) and Rutgers (71-64) over the last week and are currently tied with Illinois for first.
The Wolverines average 78.4 points per game offensively, shooting 49.9% from the floor and 38.0% from the three-point line. Defensively, Michigan allows 64.9 points per game while holding opponents to 37.7% from the field and 32.0% from three.
Freshman center Hunter Dickinson (14.6 ppg) and senior forward Isaiah Livers (14.5 ppg) led the Wolverines in scoring, accounting for 37% of Michigan's scoring. Sophomore guard Franz Wagner chips in 12.6 points per game.
Michigan is 12-4 against the spread this year, with an 8-3 mark against conference opponents. The Wolverines are 4-1 away from Ann Arbor and 2-5 against the Buckeyes in their last seven matchups.
The Wolverines are fourth overall according to KenPom and 3rd in the NCAA Net Rankings. Michigan ranks seventh in both offensive and defensive adjusted efficiency.
What to Know – Ohio State Buckeyes
Ohio State rolls into Sunday's showdown on a seven-game winning streak and 10-2 mark in the new year. Included in that seven-game stretch is pair of victories over top 10 teams, both on the road.
OSU's offense scores 78.1 points per game behind 46.1% field goal shooting and 36.2% from beyond the arc. Ohio State's defense surrenders 68.6 points per game on 41.5% shooting from the floor and 33.7% shooting from three.
Sophomore E.J. Liddell has stepped in and led the Buckeyes in scoring, pouring in 15.5 ppg. Liddell has been OSU's leading scorer in seven of their last nine games. Junior guard Duane Washington Jr. is second on the team scoring 14.9 ppg, and junior forward Justin Sueing adds 10.5 ppg.
The Buckeyes are 14-7-1 ATS this season, including 11-4-1 in conference play. Ohio State is 5-0 ATS in their last five games and 5-2 in home contests.
Ohio State ranks sixth overall in both KenPom and the NCAA NET Rankings. The Buckeyes rank 3rd in offensive adjusted efficiency and 62nd in defensive adjusted efficiency.
The Pick is In
Sunday's tilt is a premier matchup of two of the top teams in college basketball as the calendar nears March. These teams could have deep runs into the NCAA Tournament, and don't be surprised if these two met up again in the Big Ten Tournament Championship. A real toss-up, we will side with the OSU's recent play and the game happening in Columbus.
The Pick: Ohio State -1