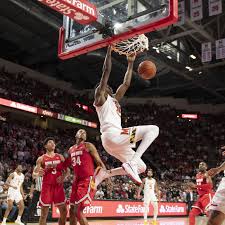 This Maryland vs Iowa pick offers the #12 Terrapins at -1.5. Our Maryland vs Iowa prediction notes that this Big Ten contest is between one of the top teams in the conference, Maryland, and one of those which presently sits at the bottom, Iowa. The #12 Maryland Terrapins (13-2 Overall, 3-1 Big Ten) are second in the conference. The #8 Michigan State Spartans, who are 5-0, occupy first. On the other hand, the unranked Iowa Hawkeyes (10-5 Overall, 1-3 Big Ten) are tied with the #11 Ohio State Buckeyes for 12th in the conference. Note, it's just the start of conference play and that means a team's status can certainly change, going up or down in the standings. This game will be played Friday, January 10, 2020 at 7:00 pm ET. The Big Ten contest will tip off at the Carver-Hawkeye Arena in Iowa City, Iowa.
Maryland vs Iowa Pick – Recent Performance
The Terrapins started the season with 10 wins in a row. Then, on December 10 and 19, Maryland lost two games straight. Penn State first beat them 76-69. After that, Seton Hall took down the Terps 52-48. Since that loss to the Pirates, Maryland has won three more games with their last victory being on January 7 as they took down #11 Ohio State 67-55.
Our Maryland vs Iowa pick notes that the Hawkeyes have been less consistent than the Terrapins. Still, they did well at the start of the season, winning seven of their first 10 games. That included a 72-61 win over #12 Texas Tech. Four games later, on December 6, the #4 Michigan beat Iowa 103-91. Four wins followed, which were then followed by two losses. In the first, #21 Penn State took down Iowa 89-86. In their last contest, which was on January 7, Nebraska beat the U of I 76-70.
Terrapins at Hawkeyes – Stats
Our Maryland vs Iowa pick observes that the Hawkeyes come to this game ably scoring while the Terps offer a tough defense. Iowa is averaging 80.4 PPG, while Maryland has been putting up 74.8 PPG. On the other hand, Maryland is holding opponents to 61.3 PPG while the Hawkeyes are giving up 70.7 PPG.
Iowa's field goal percentage is a healthy 45.7%. The Terps are completing 41.9% of their shots from the field. Concerning three-point attempts, the Hawkeyes are completing 34.4% of their long shots, while Maryland is hitting 31.4%. However, the Terps are better on free throws, 73.1% to 71.0%. Rebounding goes to the visiting team, as Maryland tops Iowa 41.9 to 38.9 RPG. Iowa's assists average 17.9 per game and Maryland's come to 12.7 per game. On D, the Hawkeyes are posting 3.5 BPG and making 6.9 SPG. Maryland's stats stand at 5.1 BPG and 5.3 SPG.
Terps vs U of I – Players
Maryland's roster includes four players who are averaging 9.9 or more points per game. Guard Eric Ayala, who is averaging 9.9 PPG, is an important contributor, averaging 26.5 MPG. The team's top scorer, guard Anthony Cowan Jr., is putting up 16.7 PPG and dishing off 4.1 APG. He's also grabbing 3.8 RPG. Forward Jalen Smith is a massive rebounder, bringing down 9.7 per game. Also, Smith is averaging 13.3 PPG. He's a fine defender, blocking 2.3 shots per game. Guard Aaron Wiggins can bring it outside, putting up 10.9 PPG, and he can battle inside, taking down 6.2 RPG.
Iowa offers two players who are hitting over 50% of their shots from the field, and one of those players is completing 50% of his shots from beyond the arc. Center Luka Garza is a 56.2% shooter. He's averaging 22.1 PPG and 10.7 RPG. In back, C.J. Fredrick is hitting 54.0% of his field goals and 50% of his threes. He's good for 10.3 PPG. Guard Joe Wieskamp is putting up 14.0 PPG and grabbing 5.9 RPG.
Our Maryland vs Iowa Pick
Which way will this game go? Iowa looks like a worthy opponent, and we expect they will keep it close. The Hawkeyes have lost their last two games. The Terrapins are on a three-game winning streak, which includes a victory over #11 OSU. Overall, we think that defense will win the day, especially up front as Maryland's Smith not only ably produces points but also defends. Our Maryland vs Iowa pick is the Maryland Terrapins at -1.5.
We also have the over/under on the Maryland vs Iowa contest. See where we think the score in this Big Ten matchup will trend.
#12 Maryland Terrapins vs Iowa Hawkeyes Prediction – Summary
#12 Maryland Terrapins at -1.5