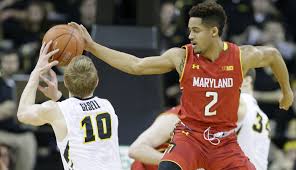 It's a Big Ten matchup as the first place #25 Maryland Terrapins (16-2 Overall, 4-1 Big Ten) visit the tenth place, unranked Iowa Hawkeyes (11-8 Overall, 3-3 Big Ten). The Terrapins are tied with Wisconsin for first in the conference. Iowa, which is tied with four other teams, is 1.5 games out of first place. Our Maryland plays Iowa college basketball free pick has Hawkeyes favored by 1.5 points.
Maryland has not yet played a top-25, and although the Hawkeyes are not ranked, this is seen as being a major test for the Terrapins. Over the course of their last five games, Maryland is 4-1, having lost only to Nebraska 67-65 on Jan. 1. Wins include 84-59 against Illinois on Dec. 27, 77-70 versus Michigan on Jan. 7, and 75-72 against Indiana on Jan. 10. Their last game was on Jan. 14 when they beat Illinois again 62-56.
The Hawkeyes come to this game having beaten two top-25 teams, including #25 Iowa State 78-64 and #17 Purdue 83-78. Earlier in the season, they lost to the then #15 Boilermakers 89-67. Iowa is 3-2 in their last five games. Along with beating Purdue on Jan. 12, Iowa was victorious over Michigan 86-83 in OT on Jan. 1 and Rutgers 68-62 on Jan. 8. Their losses were to Nebraska 93-90 in OT on Jan. 5 and to Northwestern 89-54 on Jan. 15.
#25 Maryland Terrapins
With 7-1 Michal Cekovsky (10.0 PPG, 3.8 RPG, 68 FG%) out, the Terrapins have lost an important force up front. Guards Melo Trimble (17.2 PPG, 3.4 RPG, 3.0 APG) and Anthony Cowan (11.1 PPG, 4.4 RPG, 3.6 APG) are respectively 44% and 47% field goals shooters. At forward, Justin Jackson (10.2 PPG, 5.8 RPG, 44 FG%) offers fine play inside and a three-point shot that he hits 42% of the time. In the frontcourt, Damonte Dodd (6.4 PPG, 5.0 RPG, 55 FG%) is blocking on average 2.4 SPG and is coming off a six-block performance against Indiana.
The Terrapins have a sound defense, which is allowing opponents 65.1 PPG while they are scoring 75.2 PPG. They are blocking 4.9 SPG. One problem for Maryland is ball movement. It's not as adroit as one would like. They are solid from the free throw line competing 71% of their attempts.
Iowa Hawkeyes
Senior guard Peter Jok (21.9 PPG, 6.9 RPG, 45 FG%) leads the team in scoring. He's hitting 40% of his threes and 91% of his frees. Freshman forward Tyler Cook (12.8 PPG, 5.2 RPG, 54 FG%), who has played 12 games, has been making his presence known as a scorer and rebounder. Also in the frontcourt, freshman forward Cordell Pemsl (9.3 PPG, 5.1 RPG, 64 FG%) has proven to be reliable. First year guard Jordan Bohannan (8.8 PPG, 4.9 APG, 35 FG%) is a sound playmaker.
The Hawkeyes are allowing 78.0 PPG, and on offense, they are scoring 81.5 PPG. They have a healthy 17.1 APG and are averaging 6.8 SPG. Iowa is 3-0 at home in conference play.
Maryland Plays Iowa College Basketball Free Pick
Both of these teams are young and they are fairly evenly matched. The Hawkeyes are a little more accomplished when shooting from the field, while the Terrapins are a tad better from the charity strips. Iowa has a much deeper bench than their opponents. If the Hawkeyes are going to assert themselves, this is the time to do so. Finally, Iowa has had a much tougher schedule than Maryland and have beaten nationally ranked teams. Our Maryland plays Iowa college basketball free pick is the Hawkeyes at -1.5. The game will be played at 7 p.m. on Thursday, Jan. 19.
Maryland Plays Iowa College Basketball Free Pick: Iowa at -1.5