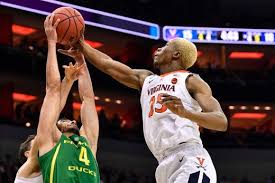 Our Purdue vs Virginia preview and pick have the Cavaliers at anywhere from -4.0 to -5.0. This Purdue plays Virginia prediction for the NCAA South Region Elite Eight sees the game as a battle between a productive Purdue offensive and a very tough Cav defense. In the Sweet 16 a few days ago, Purdue surprised Tennessee in OT, beating them 99-94. Virginia got to the Elite Eight by taking down a tough Oregon Ducks team in a low-scoring affair, 53-49. This Elite Eight game, the second of two being played today, Saturday, March 30, will tip off at the KFC Yum! Center in Louisville, KY at 8:49 pm ET.
Purdue Boilermakers
As we have noted before, for the Boilermakers is all starts and ends with junior guard Carsen Edwards. Edwards continues to perform at an exceptional level of consistency. In the 2019 NCAA Tournament, he's scored a minimum of 26 points per game, and Edwards is averaging 32.3 PPG. The skilled guard is shooting 78% from the foul line and grabbing 5.6 RPG. Senior guard Ryan Cline has also posted some solid numbers, as he's averaged 14.3 PPG, 4.3 RPG, and 4.0 APG. In the frontcourt, Matt Harms has been tough to stop. Harms, at center, is averaging 14.3 PPG and 8.3 RPG. At forward, Grady Eifert has been essential to the rebounding effort. Eifert is taking down 6.3 RPG while scoring 6.0 PPG.
Against Old Dominion, this team shot just 37.7% from the floor and 30.0% from the arc and beyond. But in their last two games, the Boilermakers have consistently connected on more than 50% of their field goals and averaged 50.5% when putting up three-pointers. Overall, they have been disciplined keeping the totals on personal fouls and turnovers low. Our Purdue vs Virginia preview and pick notes that the Boilermakers will have to play disciplined basketball if they are going to have a chance against the Cavaliers,
Virginia Cavaliers
In the 2019 NCAAM Tournament, the Cavaliers have held opponents to on average 52.0 PPG and no team has scored more than 56 points against them. If they can repeat those efforts against the Boilermakers, then our Purdue vs Virginia preview and pick sees the Cavs as moving onto the next level. Opponents have shot about 39% from the floor against this team, and, ironically, they've been good on three-pointers by almost the same rate (37.0%). The Cavaliers, like their opponents today, are also very disciplined, keeping the number of turnovers and personal fouls they've committed exceptionally low. Also, Virginia has been more consistent than Purdue when shooting from the charity stripe.
The guys to watch on this team according to our Purdue vs Virginia preview include guards De'Andre Hunter and Ty Jerome. Hunter is averaging 14.6 PPG, while Jerome has been putting up 12.7 PPG. Jerome is also averaging 5.0 APG. In the paint, Mamadi Diakite, who has subbed in for the injury-hampered Jack Salt, has played well. Diakite, who possesses double-double potential, has put up on average 12.7 PPG and grabbed 9.7 RPG.
Five Keys
Virginia foul shooting may give them just enough to win
Can anyone stop Purdue's Edwards?
For the Cavaliers, Diakite is key upfront
With Boilermakers, fatigue may be a factor due to OT game vs TN
Virginia D a bit better than Perdue's
Purdue vs Virginia Preview: Our Pick
How does our Purdue vs Virginia preview and pick see thing game playing out? We do think that this will be a very close contest. We do like the Cavaliers a lot. But there is something about the Hunter-led Boilermakers that gives us pause. Our pick in this Elite Eight game, due to a variety of factors, is Purdue at +5.0.
Summary Elite Eight South – Purdue vs Virginia Preview & Pick: Purdue Boilermakers at +5.0