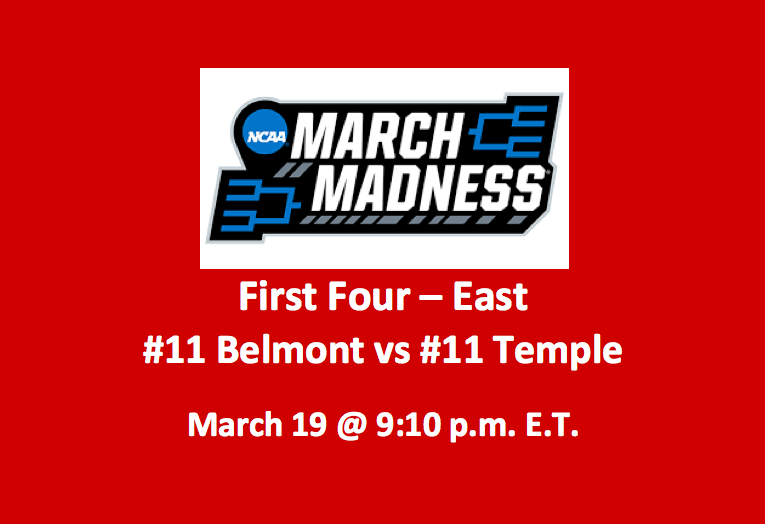 Our Belmont vs Temple pick for the initial East Region 2019 NCAA Tournament First Four game has the Bruins at -3.0. The Belmont and Temple contest, which will be played at 9:10 pm ET on Tuesday, March 19, is the second and final March Madness game of the night. Whoever wins this battle will play #6 Maryland in the East on March 21 at 3:10 pm.
In the Ohio Valley Conference, the Belmont Bruins (26-5 Overall, 16-2 OVC) finished in a virtual tie with the Murray State Racers. In the conference tournament final, the Bruins lost to the Racers 77-65. Although in nonconference play, Purdue beat Belmont 73-62, our Belmont vs Temple pick notes the Bruins were victorious over various other key clubs. Those included Illinois State 110-89, UCLA 74-72, and Western Kentucky 80-74.
The Temple Owls (23-9 Overall, 13-5 AAC) were tied for third in the American Athletic Conference. The Owls lost in the league quarterfinals to Wichita State 80-74. This season, Temple beat a range of teams, many of which were nation ally ranked. The Owls took down #17 Houston 72-69, #25 UCF 67-62, Georgia 81-77, and UMass 65-63.
Belmont Bruins
The Bruins are averaging a hefty 87.4 PPG. They also move the ball a lot, averaging 19.9 APG, and are tough in the paint, grabbing 38.9 RPG. Our Belmont vs Temple pick notes that the shooting percentages for this team are also strong. Belmont is averaging a 49.9 FG%, 73.8 FT%, and 37.3 3PT%. Center Nick Muszynski is hitting 60.8% of his shots from the floor and 38.9% from downtown. He's averaging 14.9 PPG as well as 5.9 RPG. Guard Grayson Murphy tops the team in assists with 6.6 per game and is good for 9.8 PPG and 4.8 RPG. Guard Dylan Windler is a double-double threat, putting in 21.4 PPG and taking down 10.4 RPG. He's hitting 54.8% of his field goals and 43.0% of his threes.
Temple Owls
Temple is making 8.7 steals per game and do a good job of holding onto the ball when they are in possession. The Owls are averaging 74.8 PPG, while competing 43.9% of their field goals and 33.1% of their threes. Temple has a free throw percentage of 73.1. A trio of guards are first through third in scoring, with Shizz Alston Jr. averaging 19.7 PPG. He's also dishing off 5.0 APG. Guards Quinton Rose and Nate Pierre-Louis are averaging 16.5 and 13.3 PPG respectively. Center Ernest Aflakpui is good for 7.0 RPG and 5.9 PPG. He's a 59.6% shooter but does not toss it up deep.
Our 2019 NCAA Tournament – Belmont vs Temple Pick
The battle of the centers looks to go to Belmont's Muszynski, while in terms of scoring we like Temple's guards. We do think that the Bruins are an overall better shooting and scoring team. But the Owls have stepped up this season against much better teams. Our Belmont vs Temple pick like the Bruins at -3.0. Belmont has too much going for them in this game.
Summary East Region, First Four – Belmont vs Temple Pick: Belmont Bruins -3.0