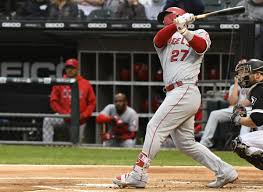 Our Los Angeles Angels vs Pittsburgh Pirates totals pick offers a potentially high scoring game. This Los Angeles Angels vs Pittsburgh Pirates totals projection has the Angels set to host the Pirates at 10:07 pm ET on Monday August 12.
The Pirates own a 49-68 record on the year while the Angels are 58-61. The Pirates are 1-9 in their last ten games while the Angels are 2-8. We see the struggles of both starting pitchers as well as both clubs' offensive performances as being factors in what could be a high scoring matchup.
Los Angeles Angels vs Pittsburgh Pirates Totals Pick – Pitching
Mitch Keller will make his fourth career start as well as his first since June 18th. Keller struggled in his brief MLB stint earlier this season compiling a 10.50 ERA over 12 total innings pitched. He registered a loss in his first appearance and no decisions in his last two contests. The Pirates hope that his second MLB call up will be more akin to his performance in Triple-A. Keller owns a 3.56 ERA over 19 starts for the Indianapolis Indians. The hard throwing righty will rely on his 96mph four-seamer and his 88mph slider to get him through his fourth career MLB start.
The Angels will send their own rookie to the mound on Monday. Jose Suarez has made 10 starts in 2019 and will look to improve his 2-3 record against Pittsburgh. Suarez has an unimpressive 6.22 ERA this season and is coming off of a rough start against the Reds. He allowed 10 hits and six runs over five innings in a losing effort. On the year, opponents are batting .296 against the southpaw. Suarez primarily relies on his 92mph fastball and 82mph changeup to keep hitters out of rhythm. He will need to mix his pitches well against the Pirates to get a solid outing.
Pirates vs Angels Recent Offensive Performances
In general Pittsburgh has struggled to score recently, although they are coming off of a nine-run effort. They have scored three or less runs in four of their last five games. A big factor in this lack of scoring has been Josh Bell's recent slump. The power hitter has arguably been the Pirates most valuable player this season. He leads the club in both RBI (89) and home runs (27). In 2019, Bell also has a very respectable average of .280. Over the last week, he has four RBI and two home runs. He broke out of this slump on Sunday, where he hit both homers and drove in four runs. On the Pirates side, Bell will be the biggest factor in this matchup.
The Pirates have also gotten solid contributions from Jose Osuna and Pablo Reyes. Osuna has a .807 OPS in his last six games. He has six hits over his last 19 at bats. Reyes has a .417 average in his last five contests. He has four RBI in this span. Pittsburgh will hope to get more out of Starling Marte. He has struggled in the past week. On the year, he has batted .282. In his past six games, this has dipped to .208.
Los Angeles has had decent offensive performances recently. They have scored 25 runs in their last five games including, in one game, 12 runs against Boston. As usual, star Mike Trout has been almost untouchable. In his last six games, he has a .316 average and an OPS of 1.322. He has driven in five runs and has three home runs in this span. Apart from Trout, Justin Upton and Brian Goodwin have been very solid. Goodwin has a .974 OPS in his last six games. Upton has an OPS of .958 over the past week.
Los Angeles Angels vs Pittsburgh Pirates Totals: Summary
In our Los Angeles Angels vs Pittsburgh Pirates totals pick, both teams will send struggling pitchers to the mound in this matchup. Mitch Keller is making his first start since June, where he struggled. Jose Suarez has had a tough time in his rookie season with a 6.22 ERA. This will be his first start after an abysmal effort against Cincinnati. The Pirates have generally been slumping on the offensive side of the ball, but come off a nine-run effort. The Angels have been fairly average in terms of run production. Despite this, Keller will have to face the best player in the league in Mike Trout. We can see this game being high scoring.
Los Angeles Angels vs Pittsburgh Pirates: Totals Prediction
Over 10 total runs (-110)