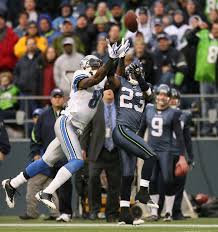 The second wild card game for Saturday, Jan. 7 has the Detroit Lions (9-7), the sixth seed and second wild card team, at the Seattle Seahawks (10-5-1), winners of the AFC West. The Lions come into this game with a reputation for being a come from behind club. The Seahawks have had a season where they often struggled to score. Here's our Lions play Seahawks NFL wild card free pick.
The Lions come into this game in a manner no team wants to enter the playoffs. That's on a losing streak. In the final three weeks of the season, they lost to the Giants 17-6, Cowboys 42-21, and Packers 31-24. Prior to those losses, they had five straight wins.
The Seahawks come into the playoffs having performed inconsistently as of late. In their last six games, they have alternated wins and losses. They first lost to the Bucs 14-5, won against the Panthers 40-7, lost to the Packers 38-10, and beat the Rams 24-3. That win was followed by a loss to the Cardinals 34-31 and, finally, a win against the 49ers 25-23.
Detroit Offense vs. Seahawks Defense
The Lion offense is averaging 21.6 PPG. They are averaging 248 yards of offense in the air and 106 on the ground. QB Matthew Stafford (65.3 COMP%, 24 TDs, 10 INTs, 37 Sacks) has played well throughout most of the season, but his frontline has not always adequately protected him. He has a good group of receivers which include wideout Anquan Boldin who has eight touchdown catches and wide receiver Marvin Jones who's averaging 16.9 YPC. RB Theo Reddick, who is both a fine rusher and able pass catcher, is out with a wrist injury. RB Zach Zenner (88 ATT, 344 YDs, 3.8 AVG, 4 TDs) will be one of the guys asked to make up for his yards today.
The Seahawk defense is tough and effective, allowing opponents just 18.3 PPG. They come into the game with 42 sacks, 11 interceptions and 18 TFL. They are capable of shutting down the best offenses. However, they don't always do so. DE Cliff Avril (11.5 Sacks, 5 FF) and CB Richard Sherman (13 PD, 4 INTs) are premium performers. LB Bobby Wagner (167 TCKL, 4.5 Sacks, 6 TFL) is a top performer who leads the team in tackles.
Seattle Offense vs. Lions Offense
The Seattle offense, like that of their opponents, is low scoring, averaging 22.1 PPG. QB Russell Wilson (64.7 COMP%, 21 TDs, 11 INTs, 41 Sacks) offers decent passing stats, but he's also, at times, vulnerable to the rush. Top receivers include wideout Doug Baldwin with seven touchdown catches and TE Jimmy Graham with six. RB Christine Michael (117 ATT, 469 YDs, 4.0 AVG, 6 TDs) may be the primary ball carrier; however Thomas Rawls (109 ATT, 349 YDs, 3.2 AVG, 3 TDs) has come on as of late and could get 20 carries.
The Lion D is allowing an average of 20.7 PPG. Although they have often played well, they won't overwhelm you with their stats. They've notched 26 sacks, 10 INTs, and nine FF. They also have 39 TFL and 62 PD. DT Kerry Hyder (8 Sacks, 4 TFL) and CB Darius Slay (13 PD, 2 INTs) anchor the defense. Look for LB Tahir Whitehead (132 TCKLs, 3 TFL, 5 PD) to come up big.
Lions Play Seahawks NFL Wild Card Free Pick
The major question is can Detroit keep this game close. They are up against Seattle at home, which makes that scenario less likely. The point spread is as low as eight and as high as nine. In our Lions play Seahawks NFL wild card free pick, we're taking Detroit at +9.0.
Lions Play Seahawks NFL Wild Card Free Pick: Lions +9.0