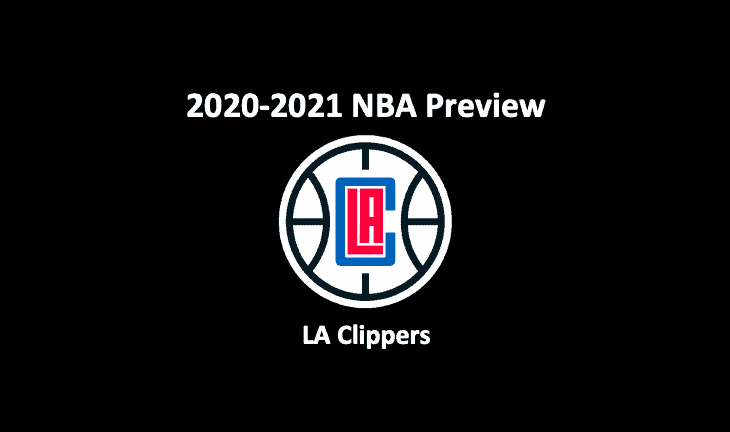 Our LA Clippers preview 2020 – 2021 notes that this team has made the playoffs eight of the last nine seasons. The last five times the Clippers got into the postseason, they did so by finishing second in the Pacific Division. In those five years when they made it into the second season, LA was eliminated in the first round four times. Last season, when they finished second in both the division and the Western Conference with a record of 49-23, this team beat the Dallas Mavericks 4-2 games in the First Round. Then, in the Conference Semifinals, they lost to the Denver Nuggets four games to three. This is a team that more times than not finds itself in the midst of the competition. It seems as if there's always hope for the LA Clippers.
LA Clippers Preview 2020 – 2021 – Stats
The LA Clippers had a solid offense as they finished fourth in the league in points per game with 116.3. The Clippers were 12th in field goal percentage with a 46.6% mark. They were sixth in three-pointers, succeeding 37.1% of the time and ninth in free throws, connecting on 79.1% of their attempts. This team was tenacious on the boards ranking third in rebounds with 47.7 per contest. In other areas, the Clippers were average or below average. They recorded 23.8 APG (22nd), 14.0 TO (14th), 7.1 SPG (24th), and 4.7 BPG (18th).
On defense, the Clippers allowed opponents 109.9 PPG (13th). Still, they were second in the league in PF/PA differential at +6.4. That stat was the best in the Western Conference. They were also +2.3 in rebound differential, which ranked fourth in the NBA. The Clippers were on the plus-side when it came to field goal, three-point, and free-throw percentages, ranking fifth, fourth, and second respectively.
LA Roster
LA has a sound backcourt and a dynamic group in front. The primary concern for this team is its bench. It is fairly reliable when it comes to the guard positions. However, there are issues in the paint where players have been dealing with injuries and putting in performances that were below expectations. Wear and tear could be the LA Clippers undoing.
LA Clippers Preview – Backcourt
PG Patrick Beverley is not the most dynamic or productive player in the NBA. The eight-year vet has career averages of 8.9 PPG, 3.5 APG, and 1.2 SPG. Although he's not a point- or an assist-machine, Beverley is reliable. He makes few mistakes as a ball handler. Plus, he's a sound defender, and his shooting percentages are on target. Paul George came to the Clippers last season. The 10-year vet averaged 21.5 PPG, 3.9 APG, 5.7 RPG, and 1.4 SPG. He is exceptionally accurate, sinking 43.9% of his shots from the floor, 41.2% of his threes, and 87.6% of his threes. In this backcourt combo, Beverley is the cool and steady hand and George the point producer.
Clippers Preview – Frontcourt
Small forward Kawhi Leonard is a premium talent. Prior to coming to the Clippers last year, he played seven seasons with the San Antonio Spurs and one with the Toronto Raptors. With LA last season, Leonard recorded 27.1 PPG, 7.1 RPG, 4.9 APG, and 1.8 SPG. Leonard is a 47.0%, 37.8%, and 88.6% shooter. Marcus Morris (Day-to-Day) is playing with knee soreness, but he is playing and fairly effectively. Morris, a power forward who in the last nine seasons has played with nine teams, came to the Clippers partway through last season after playing 43 games with the Knicks. In the 19 games he participated in with LA last season, Morris averaged 32.3 MPG, 19.6 PPG, and 5.4 RPG. He shot 44.2% from the floor and 43.9% from downtown.
Our LA Clippers preview 2020 – 2021 observes that center Serge Ibaka rounds out this dynamic frontcourt. Ibaka, who's been with three teams in 11 seasons, played the last three-plus years with Toronto. Last season with the Raptors, he averaged 27.0 MPG recording 15.4 PPG and 8.2 RPG.
Clippers Bench
Backup point guard Reggie Jackson played his share of minutes last season, averaging 21.3 MPG. Jackson recorded 9.5 PPG, 3.2 APG, and 3.0 RPG. Lou Williams, who plays both the point and shooting positions, is a 15-year vet. Last season, his third with the Clippers, he averaged 18.2 PPG and 5.6 APG. Luke Kennard, who does double duty as the two-guard and small forward, comes to LA after spending his first three seasons with the Pistons. Last season, Kennard saw his production increase in a major way as he averaged 15.8 PPG, 4.1 APG, and 3.5 RPG. He's a 40-plus-percent shooter from the field and beyond the arc.
Nicolas Batum comes in at the small and power forward spots. In 12 years, Batum has played for two different teams, Portland for seven years and Charlotte for five. Last season, his production plummeted. Although his career average is 11.6 PPG, his points-per-game came to just 3.6 last season. Due to injury, he played in just 22 games. If he's healthy this year, Batum should certainly rebound. Patrick Patterson is another player doing double-duty. Patterson, a power forward/center, offered the Clippers a little over 13 MPG, 4.9 PPG, and 2.6 RPG. Finally, last season with LA center Ivica Zubac averaged 18.4 MPG, 8.3 PPG, and 7.5 RPG.
LA Clippers Preview 2020 – 2021 – Coaching
Our LA Clippers preview 2020 – 2021 observes that this year Tyronn Lue joins the team as their new head coach. He replaces Doc Rivers, who's the new head coach for the Philadelphia 76ers. Lue, who started as an assistant with Boston in 2011 and then assisted with the Clippers and Cavaliers, landed his first head coaching job with Cleveland in 2016. He got that job in midseason when the Cavs fired head coach David Blatt. That season, rookie head coach Lue led that Cleveland team to their first NBA title. After more success with the Cavs, Lou got off to a bad start in 2018. When the team went 0-6, he was fired. From 2019-2020, he was an assistant for the Clippers. He became the team's head coach this past October.
Lue, who's noted for his calm demeanor, is a student of the game. He understands how to utilize the clock, engineer plays during time outs, and talk to players. Lue has a firm understanding of both ends of the court, and he works hard to get to know every one of his players. He's learned a lot from Doc Rivers, who he served as an assistant, and from other head coaches who have mentored him.
LA – Pluses and Minuses
Dynamic frontcourt
Leonard is a premium player
Sound offensively and defensively
Depth is an issue in front
Will new head coach Lue get this team to mesh?
Better ball movement and playmaking could mean a championship
LA Clippers Preview 2020 – 2021 – Final Word
Our LA Clippers preview 2020 – 2021 finds that once again this team is primed to compete. They stand a good chance of making it to the playoffs. But after that, how far they go is anyone's bet. With Lue as coach, this team could certainly excel or go bust. We do believe that the LA Clippers will contend. If they can take care of some of their weak spots, they may be the next NBA champs.
LA Clippers Projection – 48-24 Third-Place, Pacific Division