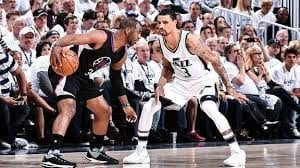 Game four of the Los Angeles Clippers and Utah Jazz series will be played in Utah tonight Sunday, April 23 at 9:00 p.m. The Clippers lead the series two games to one. The Jazz took game one in LA 97-95. The Clippers then took the next game 99-91. The series moved to Utah on Friday where Los Angeles beat Utah 111-106, taking back the home court advantage. Our LA Clippers play Utah Jazz NBA free pick has the Jazz at -2.5 and the over/under at 198.5.
Los Angeles Clippers Keys
PF Blake Griffin was injured in Friday's win and is out for the postseason. As a skilled and powerful inside player, Griffin is an essential part of the Clipper offense, averaging 20.3 PPG. Adjustments will have to be made. Center DeAndre Jordan, who's hitting for 15.0 PPG and taking down a team-best 14.2 RPG, will probably get the ball more often and PF Luc Mbah a Moute, who been averaging 8.7 PPG and 6.0 RPG, will likely see more action. You cannot lose sight of point guard Chris Paul in all of this. Paul is the team's leading scorer with 26.7 PPG and top playmaker with 10.3 APG.
Utah Jazz Keys
The Jazz have also suffered a major loss as center Rudy Gobert, who during the regular season averaged 14.0 PPG, 12.8 RPG, and 2.6 BPG, is out having played under 20 seconds in the first game of this series. The Jazz have four players in double-digit scoring, including to point-maker SF Gordon Hayward. He's averaging 26.3 PPG in the series while grabbing 8.3 RPG. Other frontcourt scorers include SF Joe Johnson at 16.3 PPG and PF Derrick Favors at 10.0 PPG. PG George Hill, who is second in scoring, is at 18.0 PPG, 3.0 APG, and 4.7 RPG. Favors is rebounding at a rate of 6.3 per game.
LA Clippers Play Utah Jazz NBA Free Pick
The Clippers versus Jazz offensive rebounding is at a two-to-one margin and LA is leading in overall rebounds, assists, and overall shooting percentage. The Jazz are hitting their threes 41% of the time while the Clippers are at 33%.
The question is which team can best adjust to their loss of a key player in the frontcourt? We like the combo of Paul and Jordan in this game. Our LA Clippers play Utah Jazz NBA free pick is Los Angeles at +2.5. We're taking the over at 198.5.
LA Clippers Play Utah Jazz NBA Free Pick: Clippers at +2.5 and over 198.5