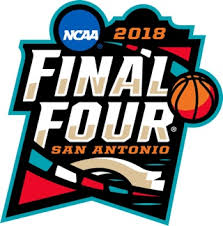 This Final Four contest, the last of two, actually features the two number one seeds, as the #1 Kansas Jayhawks (31-7) are at #1 Villanova Wildcats (34-4). The game will be played tonight at 8:49 p.m. E.T. at the Alamodome in San Antonio, Texas. Kansas won the Midwest Region last Sunday, as they beat the favored #2 Duke Blue Devils 85-81 in OT. Villanova met the #3 Texas Tech Red Raiders on the same day, beating them easily 71-59 to take the East Region. Our Kansas plays Villanova 2018 NCAA Final Four pick has the Wildcats favored by 5.0 and the over/under at 154.5.
Recent History
Kansas started the tournament by beating the #16 Pennsylvania Quakers 76-60, and then went to round two where they took the #8 Seton Hall Pirates 83-79. The Jayhawks then beat the #5 Clemson Tigers in their Sweet 16 contest 80-76. In their Elite Eight win, they had to come back and then in overtime outscored the Blue Devils 13-9.
The Wildcats first played the #16 Radford Highlanders. They won that game 87-61. In the second round, Villanova easily took down the #9 Alabama Crimson Tide 81-58. Their next opponent, which was in the Sweet 16, was the #5 West Virginia Mountaineers. Again, the Wildcats beat them fairly easily 90-78. In their Elite Eight victory, by the end of the first half, they had firmly established a 13-point lead against Texas Tech, which they never relinquished.
Stats and Facts
Although these teams are close in many statistical categories, including shooting percentage, rebounds, and assists, they are not equal in points score or points allowed. The Wildcats are better in both areas. As they are averaging 86.6 PPG, while the Jayhawks are good for 81.4 PPG. In terms of points allowed, it's 64.0 to 74.0 in favor of Villanova. And although both teams are hitting 40% of their threes, 'Nova is superior in frees, putting in 78% to the Jayhawk success rate of 71%.
Players to Watch
Yes, this is being billed as a matchup between Jayhawk senior guard Devonte' Graham (17.2 PPG) and leading scorer and Wildcat junior guard and leading scorer Jalen Brunson (19.2 PPG). Graham is a 40% shooter from the field, while Brunson is hitting 53% of his shots. Both are good on about 41% of their threes and 81% of their frees.
But another major battle will be in the paint between seven-foot, Kansas sophomore center Udoka Azubuike (7.1 RPG) and six-foot-nine, Villanova freshman forward Omari Spellman (7.8 RPG). Azubuike is a superior inside shooter, while Spellman can hit from both inside and beyond the arc. The Wildcats come to this game with six double-digit scorers, while the Jayhawks offer five guys who are scoring 12 or more points per game. We do think that junior guard Mikal Bridges, who's a Wildcat, will be a major wildcard. The guy is shooting 51% from the floor and 44% from the arc. He's also 85% from the charity stripe and averaging 17.8 PPG and 5.4 RPG. Watch out for him!
Our Kansas Plays Villanova 2018 NCAA Final Four Pick
Kansas has more size underneath, but Villanova is deeper and exceptional on defense and when shooting from downtown. We think this will be a close game and high scoring. Our Kansas plays Villanova 2018 NCAA Final Four pick is the over at 154.5. It's a lot of points, but we do think the points will roll in in the second half. Take the under in the first half, which is 73.0. As far as the point spread goes, we like Villanova at -5.0.
Summary Jayhawks at Wildcats Picks: Villanova at -5.0; over 154.5 for the game and under 73.0 for first half