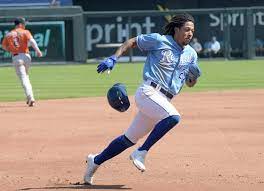 Our AL Kansas City Royals preview 2021 observes that this ball club has not been to the postseason since 2015, which is when they won the World Series. Since then, they have not finished higher than third place. In 2020, the team recorded 26 wins and 34 losses. The 162-gae adjusted record for KC results in 70 wins and 92 losses. This team has a promising group of prospects developing their skills and tools in the minors. Don't expect them to be ready for primetime in 2021. Still, we expect that if some are brought up, they'll make life interesting in what is a very competitive division. After all, the adjusted 70 wins last season was a vast improvement over 2018 and 2019 when the team won 58 and 59 games respectively.
AL Kansas City Royals Preview 2021 – Pitching
Last season, the Royals' ERA of 4.20 was better than average, as they ranked sixth in the league. KC pitchers had 11 QS (6th), four SHO (2nd), and 19 saves (3rd). However, opponents hit .254 against Royal hurlers. That ranked 12th in the AL. Their WHIP of 1.38 came in 11th. The pitching staff ranked eighth in homeruns allowed with 76.
Kansas City Rotation
Our Kansas City Royals preview 2021 notes that Brad Keller , a Rule 5 Draft pick prior to the 2018 season, has pitched well. In nine starts last season, he went 5-3 with a 2.57 ERA and 1.02 WHIP. Over 54.2 IP, he struck out 35 and walked 17. His primary pitches are a very active 93mph fastball, a cross-cutting 85mph slider, and a quick-dipping 93mph sinker. Righty Brady Singer is the second man in the rotation. In 2020, his rookie season, he won four and lost five over 12 starts, recording a 4.06 ERA and a 1.17 WHIP. Although Brady and a change and four-seam fastball, Brady primarily relies on two other pitches. He brings a 94mph sinker and 83mph slider to the game.
Three through Five
Lefty Mike Minor, a former All-Star, utilizes a slow-moving 91mph fastball, an 86mph change with a circle change grip, and an 86mph slider. Plus, he adds in a pesky 81mph curve that he throws using knuckle curve technique. Minor, who has two solid comeback years with the Rangers, accumulating a 26-18 record, saw the wheels come off the bus last season as he went from the Rangers to the Athletics. If he can find his stuff again, he'll be a quality number three.
Two more lefties, Danny Duffy and Kris Bubic, round out the starting rotation. Last season, Duffy, who had 12 starts, was 4-4 with an ERA of 4.95. Duffy, a 10-year veteran, needs to cut back on his walks. Bubic saw 10 starts and was 1-6 with a 4.32 ERA. Last season, he had an impressive K/9 rate of 8.82. However, he too needs to cut down on walks.
Relief
The Royals have a very solid bullpen, that includes righties Jesse Hahn, Tyler Zuber, and Jake Newberry. Last season, Hahn appeared in 18 games, pitching 17.1 innings and recording three saves, five holds, and a 0.50 ERA. His WHIP was 0.69. Zuber appeared in 23 games, pitching 22 innings. He struggled, walking 20 and accumulating a 4.09 ERA and 1.59 WHIP. Last season, his third in the majors, Newberry pitched 22 innings striking out 24 and walking just 12. He did give up 30 earned runs, which resulted in an ERA of 4.09.
The Royals resigned closer Greg Holland to a one-year deal. Last season, the 10-year vet appeared in 28 games. He had solid control. Over 28.1 IP, he walked just seven while striking out 31. Holland recorded a 1.91 ERA and o.95 WHIP. He saved six, held two and was 3-0. Holland did not have a blown save. Holland keeps batters off-balance with a mix of three pitches that includes his slider (86mph), fastball (93mph), and curve (79mph). He's a quality save artist.
Kansas City Royals Preview 2021 – Everyday Players
Kansas City's batting average of .244 ranked eighth. They totaled 237 RBI (13th), 68 homers (11th), and 527 strikeouts (8th). The Royals showed speed, as they stole 49 bases, tying for second in the AL. They were 12th in OBP (.309), 10th in SLG% (.402), and 11th in OPS (.711). Finally, their 97 doubles tied for sixth in the AL. Although the Royals offense excelled in some areas, there are still plenty of areas for improvement.
Whit Merrifield leads off, while Adalberto Mondesi bats second. Third up, it's catcher Salvador Perez. DH Jorge Soler hit cleanup while former Red Sox Andrew Benintendi steps up to bat fifth. After that, it's first baseman Carlos Santana, and then third baseman Hunter Dozier. The last two players up will likely be centerfielder Michael A. Taylor and second baseman Nicky Lopez.
Kansas City – Infield and DH
The middle of the infield has Adalberto Mondesi at short and Nicky Lopez at second. With five MLB seasons under his belt, Mondesi is still looking for his breakout season. Last year, over the first 38 games, the shortstop's stats came in at .179/.209/.231. In the last 28 games, Mondesi was .376/.424/.706. That transformation included six doubles, three triples, and six homeruns. If he can keep up that pace for a full season, he'll become a major force for this team. Together, Mondesi and Lopez make for an exemplary defensive duo. However, Lopez needs to do much more at the plate.
In our Kansas City Royals preview 2021, Carlos Santana plays first and Hunter Dozier third. Santana, a former All-Star, comes from Cleveland after signing a two-year, $17.5 million deal with KC. Last season, the first baseman struggles at the plate. However, he led the AL with 47 walks. The big question is can the veteran find his old-self, which includes a .260 BA and 25-plus homeruns? After a breakthrough 2019 season, where he hit .279 with 26 homers and 84 RBI, he had a major backslide last season, hitting just .228.
In 2020, catcher Salvador Perez had one of his best seasons ever, hitting .333 with 32 RBI and 11 round trippers. Defensively, he's one of the best in the majors. Last year, for his efforts, he received a Silver Slugger Award and was voted comeback player of the year. DH Jorge Soler has been healthy in only one of his four MLB seasons with the Royals. He can be a major force if he can stay injury free. In 2019, he appeared in 162 games. That season, he hit .265 with 48 homers, 33 doubles, and 117 RBI.
Outfield
Right fielder Whit Merrifield is a defensive and offensive gem who can play virtually any position. Last season, his fifth with KC and in the majors, he hit .325 with a .764 OPS, 30 RBI, and nine homeruns. Centerfielder Michael A. Taylor comes to the Royals after seven seasons with the Nationals. Over those seasons, his health has been up and down. A solid fielder, he's an improvement at the plate over Bubba Starling. However, Taylor is in no way a premium hitter. In left field, Andrew Benintendi arrives in Kansas City after playing his first five seasons in Boston. Last season, Benintendi suffered a rib injury that limited his action to 14 games.
AL Kansas City Royals Preview 2021 – Final Word
Our AL Kansas City Royals preview 2021 observes that last season this team finished fourth, 10 games out of first place. We expect this team will do the same this season. However, there's promise on the farm. Still, GM Dayton Moore and manager Mike Metheny are optimistic about 2021 and determined to shape this team into a contender. However, in order to do so, they are going to have to compete against three tough clubs, the Chicago White Sox, Minnesota Twins, and Cleveland Indians. That's a huge 162-game challenge.
Summary – Kansas City Royals Preview
Record: 76-86 (Fourth-place AL Central)