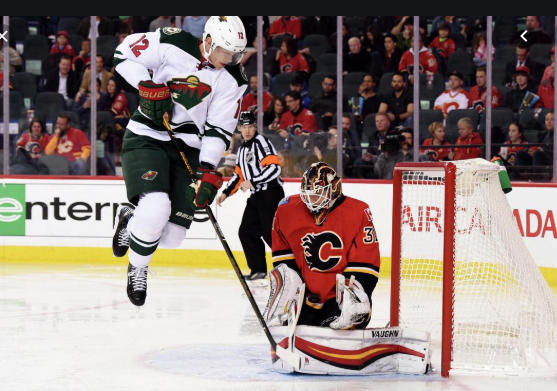 The big question heading into the January 5th NHL free betting pick is how fatigued Minnesota is going to be? The Wild are on 0 days rest after a 3-2 OT win over Winnipeg on Saturday. The Flames meanwhile visit St. Paul after not having played the last 2 nights. It's been tough to get a win at the xCel Energy Center this season, but the Flames are a -120 favorite Sunday.
Flames Get a Boost By Going on the Road?
Calgary might not mind heading to balmy Minnesota on Sunday as their recent 3-game home stand was nearly a disaster.A 4-3 win over the Rangers broke in the New Year right on Thursday, but the Flames were a -165 favorite in that one.The last two games of 2019 were atrocious for Geoff Ward's team as they allowed 10 goals in home losses to Vancouver (CAL-198) and Chicago (CAL -174).
Is it new year, new you for Calgary or will those recent defensive woes follow them into the January 5th NHL free betting pick? Minnesota is on the back-to-back, and the good news for Calgary is that the Wild have lost 7 of the last 8 on 0 days rest. The Flames are also well rested after having the last two nights off. Johnny Gaudreau broke a 6-game scoring drought last time out vs. the Rangers and has 4 points his last 4 games.
Dave Rittich is expected in net after the Flames went with Cam Talbot in the win over the Rangers. Rittich has a lot to prove after allowing 3 goals on just 7 shots to the Canucks and following that up with serving up 4 goals to the Blackhawks on New Year's Eve.
Minnesota Not in a Horrible Spot Here?
Yes the Wild are on the back-to-back and have lost 7 of their last 8 in this situation. There are some reasons to think that Minnesota might not be in as bad of a situation as one would think here:
Saturday's win over Winnipeg had an early 2:00 PM EST start, offering more rest time after.
Saturday's game went into OT, but only 1:52 of extra time after an Eric Staal goal.
Minnesota has played three straight at home and 5 of 6. They've taken one trip out to Colorado in the last two weeks plus.
The Wild can go all-in Sunday with the next 3 nights off
Minnesota just beat Calgary 3-0 in St. Paul on December 23rd.
The only real downfall the Wild have in this game is the fact that they used up Devan Dubnyk on Saturday. Alex Stalock actually leads the team in wins after Dubnyk's extended absence. Stalock has struggled as oflate though, losing 3 of his last 4 while giving up 5+ goals twice. He also hasn't seen the ice since December 21st though.
January 5th NHL Free Pick
There should be some scoring in this game with both net minders struggling and Minnesota's defense being fatigued on the back-to-back. The O/U is 6, but the Wild offense also being tired is also a concern. Minnesota scored just 2 goals total in home losses to the Islanders and Maple Leafs before Saturday's win over the Jets. Ultimately, there are just too many advantages on the visitors' side here:
Pick: Calgary Flames -120