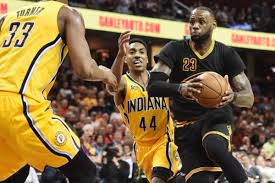 The Indiana Pacers (26-22 Overall, 11-12 Away) visit the Cleveland Cavaliers (27-19 Overall, 16-6 Home) tonight for a 7:30 p.m. E.T. game. The Pacers are fifth in the Eastern Conference, as they are 8.5 games in back of the Boston Celtics. They are second in the Central Division, two games away from the division-leading Cavs. The Cavaliers are 6.5 games in back of Boston and third in the conference. Our Indiana plays Cleveland 2018 NBA pick offers the Musketeers at -6.0 and the over/under at between 223.
Recent History
The Pacers come to this contest having won two straight and gone 7-3 for their last 10. The Cavaliers have been struggling, losing two in-a-row and winning just three of their last 10 games. The two teams met on Jan. 12, and the Pacers took that game 97-95. Also, Indiana has won the two other meetings between these clubs this season, beating the Cavs 124-107 and 106-102.
Indiana's last two games were against San Antonio on Jan. 21, who they beat 94-86 and Phoenix on Jan. 24 who they took down 116-101. Cleveland's last two games were against Oklahoma City, who they lost to 148-124 on Jan. 20 and San Antonio, who they lost to 114-102 on Jan. 23.
Matchup
In terms of basic stats, these two teams are close. Both teams are hitting 47% of their shots, grabbing about 42 RPG and making approximately 22 APG. The Cavs are scoring more points per game, 109.5 to 106.4, while the Pacers are holding opponents to fewer points, 105.2 to 109.6.
Players to Watch
For the Pacers, SG Victor Oladipo is a solid 40% shooter who is hitting 40% of his threes. Oladipo leads the team in points, averaging 24.1 PPG. He's also good for 5.2 RPG and 4.0 APG. PG Darren Collison is making 5.2 APG and scoring 12.7 PPG. Center Domantas Sabonis is seeing quite a bit of action as center Myles Turner is out due to injury. Sabonis is grabbing 8.3 RPG and scoring 12.4 PPG.
For the Cavaliers, SF LeBron James and PF Kevin Love are averaging 26.8 and 18.4 points per game. James comes to the game averaging 8.6 APG and 7.9 RPG, while Love is grabbing 9.4 RPG. At PG, Isaiah Thomas, newly added to the lineup having sat out the first 35 games or so due to injury, has been averaging 15.9 PPG and 3.4 APG.
Indiana Plays Cleveland 2018 NBA Pick
With the Cavaliers struggling the past few weeks and having a tough time against the Pacers this season, we Indiana. Our Indiana plays Cleveland 2018 NBA pick is the Pacers at +6.0. We are also going with the under on this game.
Summary Pacers at Cavaliers Picks- Indiana at +6.0 and under 223.0