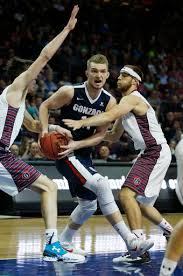 The biggest college basketball game on Saturday features the #1 Gonzaga Bulldogs (25-0 Overall, 13-0 West Coast) at the #20 St. Mary's Gaels (22-2 Overall, 12-1 West Coast). The Zags are undefeated and ranked number one in the nation, while St. Mary's sits right behind them in second place in the WCC and a distant number 20 nationally. Our Gonzaga plays St. Mary's free basketball pick has the Bulldogs favored by three points.
The Bulldogs, as noted, are undefeated. They've beaten three nationally ranked teams including St. Mary's 79-56. In the conference, they are beating most teams by 20 or more points. Their closest call was against BYU who they beat 85-75.
Since losing to the Zags in January, which was their only conference loss, St. Mary's has won seven straight. In their last two games, they have annihilated their opponents. On Feb. 4, they beat San Diego 71-27. Their last game, which was against Portland, was closer, but they held their opponent to 41 points. That contest was played a few days ago on Jan. 9.
Gonzaga Bulldogs
The Bulldogs are scoring on average 85.6 PPG while allowing 61.6. They're hitting 51.4% of their shots, grabbing 40.3 RPG, and making 7.4 steals. All of these stats are very impressive.
Gonzaga is solid both up front and in the back. Center Przemek Karnowski (12.1 PPG, 5.6 RPG, 61 FG%) is a fine inside shooter and good rebounder. Forwards Zach Collins (10.8 PPG, 5.9 RPG, 66 FG%) and Jonathan Williams (9.8 PPG, 5.3 RPG, 60 FG%) also offer points and rebounds. Collins is also a fine shot blocker and a 43% three-point shooter. In the backcourt, guard Nigel Williams-Goss (15.8 PPG, 5.9 RPG, 4.7 APG) offers a fine inside-out game. He's hitting 515 of his shoots from the field. Guard Jordan Mathews (10.6 PPG, 41 FG%, 39 3PT%) is a fine outside shooter.
St. Mary's Gaels
St. Mary's is a fine shooting team, knocking in 49.4% of their shots. They're averaging 71.8 PPG. They have a very tough defense, which is allowing 55.9 PPG. Their average rebounds (35.7) and steals (4.0) per game are well below that of Gonzaga.
Center Jock Landale (16.7 PPG, 9.5 RPG, 60 FG%) is one of the best players in college basketball. Forward Calvin Hermanson (12.8 PPG, 49 FG%, 48 3PT%) is both a good inside and outside shooter. He's second to Landale in points. Guards Emmett Naar (10.1 PPG, 5.5 RPG, 46 FG%) and Joe Rahon (8.8 PPG, 5.8 APG, 43 FG%) are sound playmakers with solid outside shoots. A big question is can Landale stay out of foul trouble. In their last meeting, he could not.
Gonzaga Plays St. Mary's Free Basketball Pick
Our Gonzaga plays St. Mary's free basketball pick sees the Zags dominating this game. Perhaps that won't happen immediately, but we do expect it to occur. That means we are not looking to a Gaels' upset in this one. We like Gonzaga at a very appealing minus three points.
Gonzaga Plays St. Mary's Free Basketball Pick: Bulldogs at -3.0